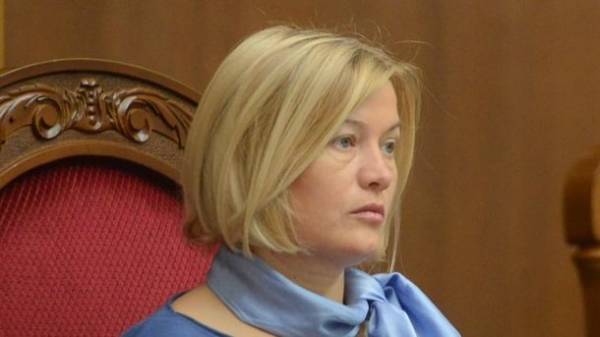 During negotiations in the Norman format in Munich, Ukraine will raise the issues of security, humanitarian, as well as Crimea. This was stated by first Deputy head of the Verkhovna Rada, Ukraine's representative to the Humanities subgroup of the trilateral contact group in Minsk Irina Gerashchenko, transfers "112 Ukraine".
"The Ukrainian side will insist on the priority of the security unit and the Humanities unit… Ukraine insists that Russian troops should withdraw from the Donbass, to take away his weapon… Must be stopped shelling in the Donbass", – said Gerashchenko.
She expressed the belief that within the framework of the Munich conference will be important not only the meeting in the Normandy format, and all international bilateral meetings that will hold the Ukrainian government, the Ukrainian President, the Ministers of foreign Affairs.
According to her, during the talks, the emphasis will be on two topics.
"First, we do not leave the question of Crimea, it is on the agenda and it is also very important that Ukraine will never accept the annexation of Crimea, and, of course, the Munich conference will raise the issue at all Russia's attempts to redraw the European borders… And the second is the conflict in the Donbas unleashed by Russia", – said the first Vice-speaker of the Parliament.
We will remind, in the Ministry of foreign Affairs of Ukraine received an offer of the German side to hold soon a meeting of "Norman Quartet" at the level of foreign Ministers.
In the "Normandy format" on settlement of situation in Donbas includes Russia, Germany, France, Ukraine.
Comments
comments