Puff potato casserole with cheese: recipe of the day
Yesterday, 18:30
Cooking at home original a casserole of potatoes
Irina Peacock
the editor of the Food
Tired of the usual side dishes? Try this potato casserole with cheese and herbs. It is easy to prepare but looks very impressive.
Is hot dish you can not only cook lunch or dinner, but boldly served to guests at the holiday table.
Potato gratin with cheese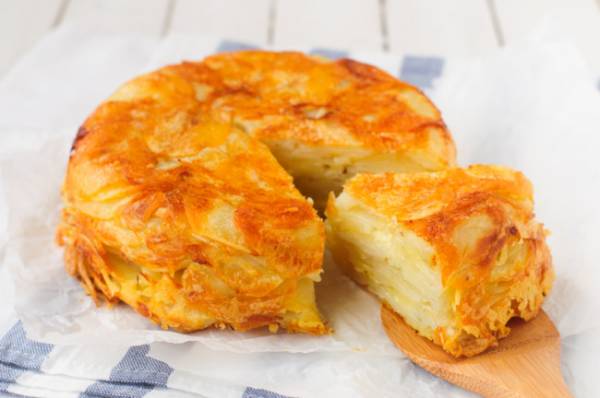 Casserole of potatoes with cheese Photo: Depositphotos
Cooking time:
Calories:
Ingredients:
Potatoes – 1 kg
Butter – 70 g
Cheese – 100 g
Thyme – 0.5 CH. l
Salt – to taste
Ground black pepper – to taste
Method of preparation:
Preheat the oven to 220 ºC. Grease the molds with a diameter of 18 cm.
Potatoes peel and cut into thin slices.
Put the sliced potatoes in a bowl. Add melted butter, dried thyme, salt and pepper. Mix thoroughly.
Put one third of potatoes in prepared pan.
On it lay a third of the cheese. Repeat with remaining potatoes and cheese, finish with cheese.
Bake for an hour. Leave the casserole in the form of five minutes, and then flip on dish.
Useful advice
Thinly slice the potatoes, a special grater or a food processor.
Earlier, we told you how to cook a casserole of zucchini with tomatoes. Today.Lifestyle also wrote how to roast cauliflower with cheese and cream.
Comments
comments