Life hack: how to peel a pineapple
Find out how easy it is to skin a pineapple
Irina Peacock
Today, 12:48
We have already told how to cut the pineapple into pieces without a knife. But if you just need to clean the fruit from the skin, follow our step-by-step instructions with photos. Peel the pineapple very simple thing – take a large sharp knife with a wide blade.
When choosing a pineapple, make sure that on the surface of the fruit was not dents and stains. Pay attention to the leaves. A ripe pineapple should they be green, and shades of skin colour to dominate warm yellow shades.
How to peel pineapple
First you need to cut the top and bottom Photo: Depositphotos
What you need:
Pineapple
Cutting Board
Big knife
What to do:
To start, wash the fruit and dry it with a towel. Then cut off the bottom and the top of the pineapple, to make it more sustainable.
Place the fruit vertically on a cutting Board and carefully start to cut the hard rind in large strips, from the top downwards.
Keep turning the pineapple until you remove all the peel. At the end you can clean the places you missed.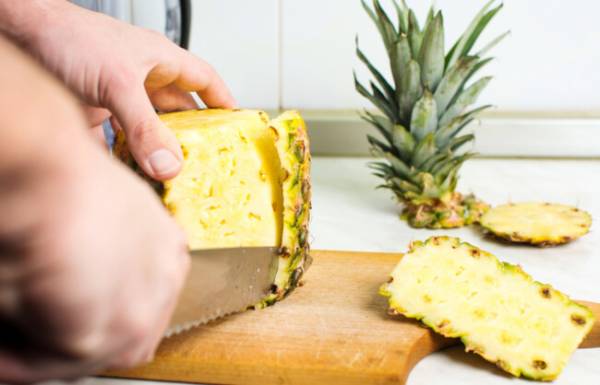 How to peel a pineapple at home Photo: Depositphotos
When you're finished, the pineapple can be cut into washers, triangular pieces or cubes.
Earlier, we told you how to peel and slice avocado. Today.Lifestyle also wrote how to clean mussels.
Comments
comments