Kim Jong UN was awarded for great personal contribution to perpetuating of memory of victims in the territory of Korea of Soviet citizens
The President of Russia Vladimir Putin awarded the head of North Korea Kim Jong-UN, who has long not been seen in public, the jubilee medal "75 years of Victory in the great Patriotic war of 1941-1945". About this Facebook said the Russian Embassy in the DPRK.
"In accordance with the decree of the President of the Russian Federation, Chairman of the State Council of the DPRK Kim Jong-UN awarded the jubilee medal "75 years of Victory in the great Patriotic war 1941-1945″ for his great personal contribution to the commemoration of the dead and buried on the territory of the DPRK, and Soviet citizens care about the safety of the graves and memorials of Soviet soldiers in the Korean people's Democratic Republic", – stated in the message.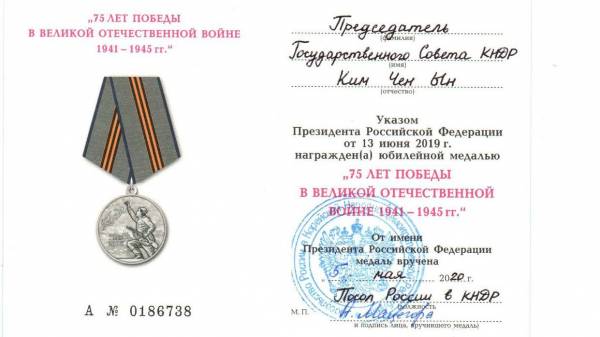 As reported, on may 5 Russian Ambassador Alexander Matsegora gave the medal to the Minister of foreign Affairs of the DPRK Lee sung Guano.
Recall, Russian President Vladimir Putin ordered officials to postpone a Victory parade in the country at a later date on the background risk of the epidemic COVID-19.
Meanwhile, the media reported that the disappearance of the public sphere of North Korean leader Kim Jong-UN can be associated with the disease, and with the desire to insure against possible infection with coronavirus.
Comments
comments