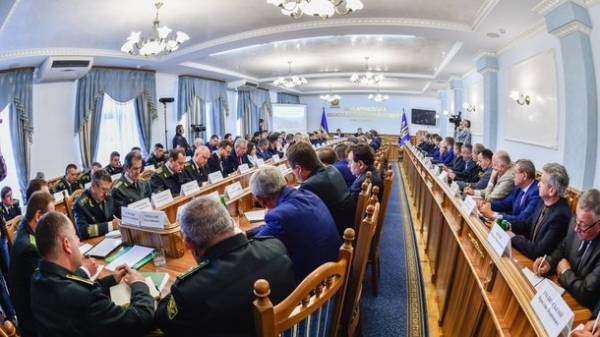 At the meeting on forestry reform and the improvement of the state environmental policy during his working visit to Ivano-Frankivsk region, President Petro Poroshenko said that the single state system of accounting of wood should be extended to all forest lands. Each log, or batch of wood must have a special tag.
The President stressed the need for implementation of an electronic system of control over the circulation of wood: "United state system of accounting of wood should be extended to all forest lands. Each log, or batch of wood must have a special"tag on them.
He noted that the charge control Department to check this issue.
SEE ALSO
Poroshenko instructed to sue Russia for the construction of the Kerch bridge

The President also stressed the importance to strengthen the coordination and coherence between law enforcement and fiscal authorities and the environmental Inspectorate and the regional state administrations to overcome illegal logging and suppression of the shadow turnover of wood.
As noted in the press service, the head of state stressed that the standards of the forest industry should be the same for forestry and other departments to the Ministry of defense, Ministry of agrarian policy and enterprises of communal ownership.
"The order should be everywhere and the standards, the industry should adopt one," he said.
Poroshenko said that the Ukrainian Parliament approved the Law, which was signed and entered into force, the introduction of criminal liability for illegal deforestation. "If we impose criminal liability, and then even grab (criminal – ed.), "hot", and then he will be free – that's not what I want to see," – said Petro Poroshenko.
"If they stole the forest, then cleared for them as a vacation. I do not accept such position", – the President said to the acting Chairman of the State forest resources Agency of Ukraine Volodymyr Bondar, who at the time of the report informed about the dismissal of the persons involved in illegal deforestation.
In addition, the head of state noted that it did not accept the figure that Ukraine is losing from illegal logging only 1.5% of the forest. "The numbers are much more," he added.
Poroshenko also stressed the need to analyze the effectiveness of the moratorium on the export of roundwood. He added that the sharp increase of load of the Ukrainian woodworking companies in connection with the termination of export of logs has not happened. "Then there is the shadow market, which today needs to be closed," he said.
Previously Poroshenko will speak at the PACE session.
Comments
comments