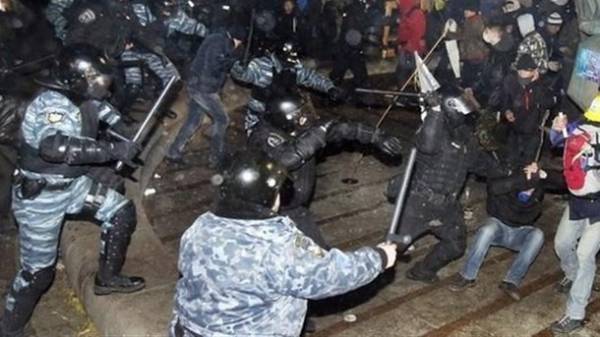 The Prosecutor General's office reported the suspected former officials of the interior Ministry, two of whom are now working in Ukraine – Igor Babich, Anatoly Seredinskiy and Sergey Pogotovu. this wrote on his page in Facebook the people's Deputy Igor Lutsenko.
According to him, the organizers of terror against Maidana and now successfully operates in Ukraine. The MP noted that they gradually contribute to the blockage of the investigation (in the case of independence), avoiding responsibility.
"Investigators of the Department of special investigation GPU is reported about suspicion, three former senior officials of the Ministry of interior of Ukraine, two of whom currently occupy senior positions in the National police of Ukraine. Igor Babich, Anatoly seredinskiy and Sergey Pogotov," wrote Lutsenko.
SEE ALSO
A matter of independence: GPU reported new suspected Yanukovych, Zakharchenko, Yakymenko
According to him, they are suspected of obstructing the holding of rallies, meetings and demonstrations of citizens on the orders of the regime of ex-President Viktor Yanukovych. In addition, they participated in the development of the draft regulations of the Cabinet of Ministers, which granted permission for the illegal use of non-lethal weapons (grenades) produced in Russia and its further illegal issue of law enforcement for use against the protesters in Kiev in February 2014.
One of them is suspected of bribing law enforcement officers to incline them to commit crimes against protesters.
Note that Lutsenko did not specify exactly who is now officials of the national police.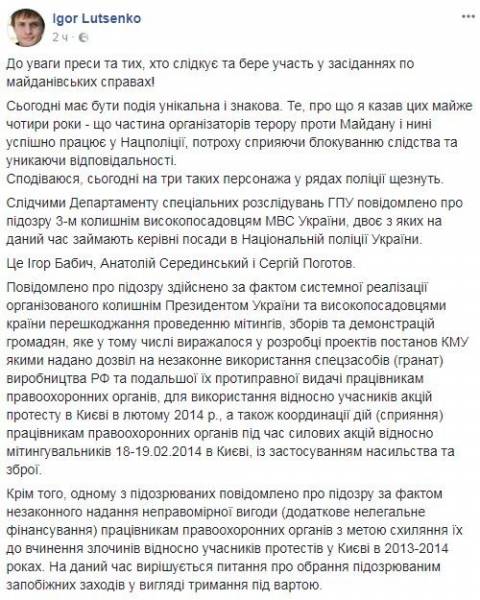 We will remind, as it became known today that the three former officials of the Ministry of interior, the General Prosecutor's office declared suspicion in the obstacle of holding rallies in 2013-2014 in Kyiv.
Comments
comments