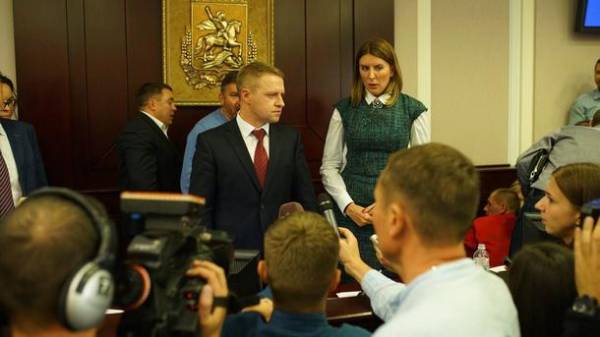 Session of the Kiev regional Council was thwarted because of the refusal of the leadership of the Council to accept the proposals of the majority of deputies this was announced by Chairman of the Kyiv regional state administration Alexander Gorgan, commenting on the failure of the session Kievoblsoveta on Tuesday, September 26, writes "RBC-Ukraine".
"After the SBU has officially announced the proven fact of falsification of voting results dated September 5, deputies of the faction PPO-Solidarity, it was decided to introduce in the agenda the question on adoption of the rules of the Kyiv regional Council. This initiative was driven by the need to stop fraud and manipulation of votes of the deputies of the regional Council. Members of the BPP went into session with the main pressing issue is to decide on the redistribution of budgetary funds to provide nearly 43 million hryvnias for needs of teachers and doctors in place," said Gorgan.
He noted that he was declared a technical break, during which he held a meeting of chairmen of fractions
"During the break, Anna Starikova became apparent that the majority of deputies supported the amendments to the agenda. Among them, Self-help and the Radicals, Our Region and even the opposition bloc. And after that, the Chairman of the regional Council cynically ignored the legitimate right of deputies to make a proposal for consideration and single-handedly set the agenda for consideration without changes. Of course, this caused fair indignation of deputies of the regional Council, realizing the support of the majority of deputies of the BPP leadership initiative of the regional Council instigated a fight that led to the disruption of the session," said Gorgan.
He believes that this "is the example of when political interests become more important solutions to human problems."
"Today, however, was demonstrated the firm position of the majority of deputies of the Kiev regional Council who are willing to work and make decisions in the interests of the communities of the Kiev region. As for the incident with the use of physical force in the room of the Council – the faction of the BPP will meet and consider the behavior of his Deputy, because this is unacceptable in the walls of the Kyiv regional Council", – concluded the Governor.
Comments
comments