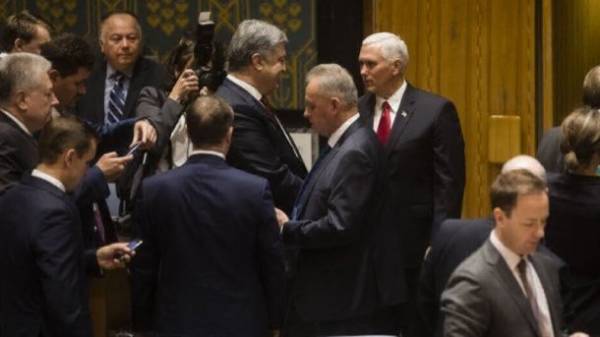 The United Nations urged not to politicize the situation with the departure of the President of Ukraine Petro Poroshenko and Vice-President Mike Pence before the speech of the foreign Minister of the Russian Federation Sergey Lavrov. This was stated by former Deputy UN Secretary-General, Deputy Secretary of the Public chamber of the Russian Federation Sergei Ordzhonikidze, reports "RIA Novosti".
He explained that this is not unusual, though, and believes it is not a very polite time. According to him, the UN security Council meetings is common, could be scheduled at this moment bilateral meetings.
SEE ALSO
Russia continues to undermine the sovereignty of its neighbors troops – Pens
"Politically I would be a great attention was paid. That is, friends do not do that, but Mr. Pence, and especially Poroshenko friends to record difficult. And the fact that (they left) before the speech Lavrov, well, it's time to show Lavrov is now not a very favorable location. That is, could migrate out of courtesy, so to speak, for 20-30 minutes. It is a political courtesy, after all, human decency," said Ordzhonikidze
Also, the ex-permanent under Secretary OGON does not consider this some sort of a protest against a Russian diplomat, but rather a disagreement with policy of Russia concerning Ukraine.
As reported yesterday during a meeting of the UN Security Council in new York, Petro Poroshenko and Mike Pence left the hall before the speech of Sergey Lavrov.
Comments
comments