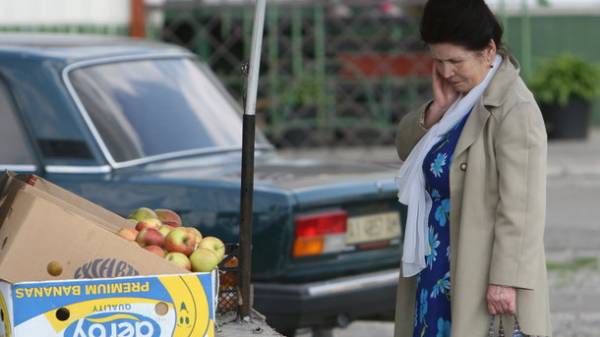 Prices for popular fall varieties of apples in Ukraine is gradually reduced. According to sellers in the wholesale markets, the demand for dessert apples started to slow down in the first half of September. Market participants believe that this is due to competition between other fruit, apples are cheaper and in sufficient quantity are available in the market. That is why, only last week the price of dessert apples on the trading floors slipped by 5-7%, according to "info-SHUVAR".
"Buyers today prefer the plum and grapes. The prices of these fruits in comparison with last year almost unchanged, but Apple has risen by at least 30%", – commented the expert of the fruit and vegetable market in Eastern Europe Tatiana Getman.
In mid-September last year, the situation with the demand was the same – the sale was rather slow, however, the prices were 30-40% lower. For example, today apples "Gala" on wholesale markets of Ukraine are offered at 10 – 12 UAH/kg, and a year ago the price was formed in the range of 8 – 9 UAH/kg For apples "champion" the price is 10 to 11 UAH/kg, last year, these apples were offered at 7 – 9 UAH/kg.
"The price of apples is influenced not only seasonal increase in the supply of fruit, but the quality of the products. This season, in many regions there is a decrease in productivity. In addition, the number of farms has apples that are damaged by hail. Of course, low quality products manufacturers are not put in storage, and try to implement it as quickly as possible. This is one of the reasons for the decline in prices on the background of a General increase in supply", – noted Director of "Fruit Project" Elena Cross.
Recall, inabout the second half of August, just a week apples grew on average by 24%. As a result, Ukrainian growers were asked 8 to 15 UAH per kg depending on grade and quality. It is about 2 to 2.1 times more than in the second half of August 2016, due to the reduction of sugar production in Ukraine
Comments
comments