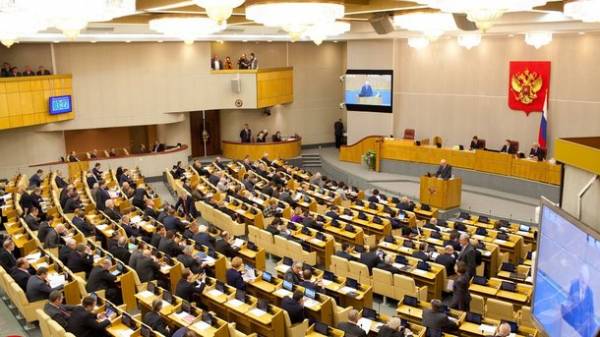 In the state Duma of the Russian Federation declared intention to support the "protests" in Ukraine the law "On education". This is stated in the draft statement of the lower house of the Russian Parliament in connection with the adoption in Ukraine of the new law "On education".
The document says that the state Duma of the Russian Federation "condemns the adoption by the Verkhovna Rada of Ukraine law "On education" and expressed their full support for protests in Ukraine and in European countries about its adoption."
Earlier, the Minister of education and science, Liliya Hrynevych said that Ukraine is ready to send to the Council of Europe for examination the language article of the education lawto confirm the absence of violations of international obligations.
She also expressed hope that the President of Ukraine Petro Poroshenko will sign the law "On education" is going to last examination of the language of the article.
SEE ALSO
Poroshenko: Ukraine does not prohibit the study of the language of national minorities, but every child should know Ukrainian
Recall, the foreign Ministers of Bulgaria, Hungary, Greece and Romania have signed a warning letter to the foreign Minister of Ukraine because of the new law on education.
As you know, September 5 deputies of Ukraine adopted on second reading and in whole draft law "On education", which, in particular, specifies that the language of the educational process in educational institutions is Ukrainian.
Hungary has appealed to the OSCE Secretary General, the Commissioner of the organization for national minorities and the current Chairman of the OSCE, and the UN high Commissioner for human rights and the EU Commissioner for enlargement and European neighbourhood policy because of the educational law of Ukraine.
Comments
comments