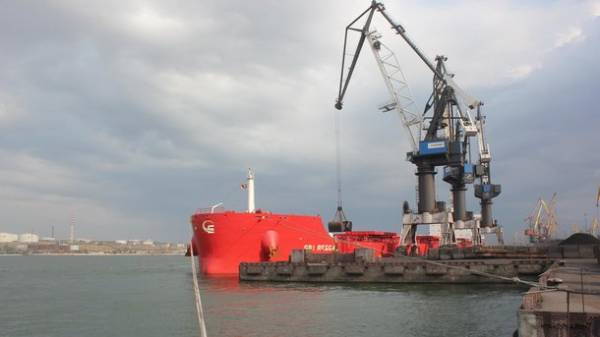 In the port "South" came a bulk carrier with 75 thousand tonnes of anthracite coal for thermal power plants of DTEK. This is the fourth batch of coal from South Africa, who will be travelling to the warehouse Krivorozhskaya and Pridneprovskaya TPP. Accumulating coal in the warehouses, stations are preparing for the autumn-winter period.
The Semiramis bulk carrier delivered to Ukraine 75 thousand tons of South African anthracite. After unloading in the port "southern" coal will go to the warehouses of the Pridneprovskaya and Krivorozhskaya TPP power to the station had the resource to work in autumn and winter.
In August, the company was forced to include these stations in order to maintain the stability of the country's energy supply during the summer peak of electricity consumption. Anthracite power generation of DTEK's TPPs increased by 2.5 times compared with the previous month – to 564 million kWh. In this mode of operation of the plant burned a total of about 10 thousand tons per day.
"This is the fourth batch of South African anthracite, in the framework of the preparation of our thermal power plants for the heating season. We expect another bulk carrier with 75 thousand tons of anthracite next week. After the loss of our anthracite mines and the increased burden on brand G, import of coal is forced though a temporary solution for our company. Our main task – to pass the winter and to provide the population with electricity and heat. All else is secondary. The company DTEK continues to work on the transfer station for anthracite coal gas, which is produced in Ukrainian mines. First in the investment program of translation are unit 2 Prydniprovska TPP", – said the commercial Director of DTEK Energy Vitaly Butenko.
In the framework of the contract, DTEK has imported to Ukraine 225 thousand tons of anthracite from South Africa. The first vessel with 75 thousand tonnes of anthracite coal for thermal power plants, DTEK arrived in Ukraine on 25 may. Only in South Africa, the company has contracted 675 thousand tons of coal.
SEE ALSO
Of DTEK's TPPs in August increased electricity production by 16.4%
Recall, from September 2017, DTEK started to implement a program consisting of three key steps to reduce import of coal. Step # 1 – transfer of blocks of anthracite on coal gas. Step 2 – provision of Ukrainian coal thermal power plants production. And step # 3 – upgrades capacity thermal power plant for efficient and uninterrupted operation.
The most important action of DTEK for sustainable energy supply of Ukraine in the autumn-winter period can be found on the website.
Comments
comments