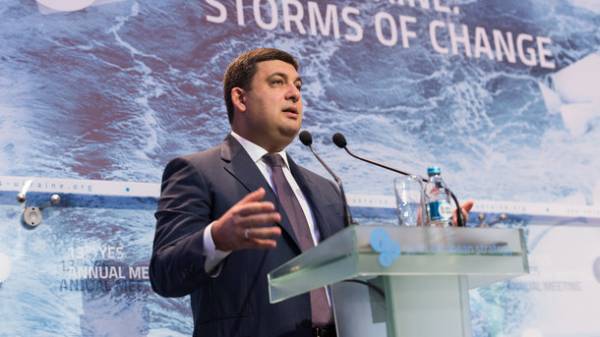 Today, September 14, in Kiev opened the 14th annual meeting of the Yalta European strategy (YES) – "is the world a new? And what it means for Ukraine?". In a conference organized by the international YES forum in partnership with the Victor Pinchuk Foundation, will bring together more than 350 leading politicians, diplomats, businessmen, civil society activists and experts from 34 countries.
15 September plenary session YES will begin with President of Ukraine Petro Poroshenko. It will focus on the role of Ukraine in a changing world. Furthermore, on 16 September, the second day of the plenary meeting will open with a speech by Prime Minister of Ukraine Volodymyr Groysman on the progress of reforms in Ukraine and the role of the EU in this process.
Among the guests of YES former us Secretary of state John Kerry, former Prime Minister of great Britain David Cameron, former US Secretary of state Condoleezza rice, the President of the European Bank for reconstruction and development (EBRD) Suma Chakrabarti and other.
SEE ALSO
Former Prime Minister of Sweden, Bildt joined the Supervisory Board YES
"The meeting YES – this is the place where the global and Ukrainian leaders can assess changes in the world and their importance for Ukraine, as well as offer new ideas. The forum has become the annual meeting place, bringing together the world's leading thinkers and those who change Ukraine. We are convinced that it makes a significant contribution in support of positioning of Ukraine in the world and begins the necessary discussion in Ukraine and between Ukrainians and their international partners," said founder and Board member of Yalta European strategy, Victor Pinchuk.
The focus of the YES participants focused on the issues of the shift in the geopolitical distribution of power and changes in the world economy, the politics of the new us administration, global security, cyber-security issues, populism, and energy security.
According to tradition, one of the most important topics of the meeting YES will be Ukraine and its prospects in the world. The discussions will focus on the changes occurring in the country and challenges that it faces.
"Ukraine is experiencing perhaps the largest and most rapid transformations in history. The problem is that the global world to which she aspires to join, is not alone – it becomes mobile and from time to time unpredictable. Whether Ukraine will be able to synchronize with the global transformation and will become an example for other countries in transition? The answer can be found only here, in Kiev. And with a global perspective on the challenges and prospects facing Ukraine", – said the Chairman of the Board of Yalta European strategy, President of Poland (1995 – 2005) Alexander Kwasniewski.
Plenary session of the forum and the work of the special sections will take place at the Art Arsenal.
Comments
comments