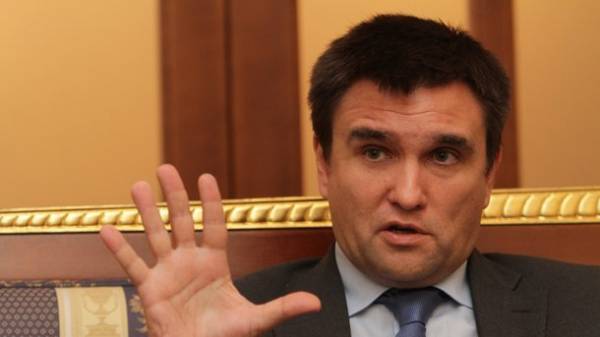 Western partners have supported the Kiev the draft law on the reintegration of Donbass. This was announced by the foreign Minister of Ukraine Pavlo Klimkin, reports "UKRINFORM".
"So we even from a legal point of view legal definition of occupation in the case of the Donbas, as it is occupied by the Russian Federation… We have informed our partners about the General logic of this bill, and it raises questions, because we are not in any way change the logic of the Minsk process," he said.
The Minister recalled that the Minsk agreements clearly says that all foreign troops should be withdrawn.
SEE ALSO
Ukraine is ready to recognize Russia as an aggressor country.
"Russia's trying to play, and to deliberately provoke the situation, retaining the presence, trying to create Donbass a cross between a colony and a protectorate, and then just to legitimize this situation. I believe that this law should have been taken long ago, as in the case of Crimea we have a classic example of occupation. In the case of the Donbas – a mixture of classic occupation, as there are Russian regular troops, and hybrid – that Russian mercenaries and weapons, and the real control of the entire occupied territory of Russia", – said Klimkin.
As reported, in late August, the head of the faction "Block of Petro Poroshenko" Arthur Gerasimov said that the draft law on de-occupation (reintegration) Donbass will be submitted to Parliament after it is approved by the national security Council in the final version.
4 September, the representative of the President of Ukraine in the Verkhovna Rada, people's Deputy of the faction PPO Irina Lutsenko said that the law on the reintegration of Donbass currently drafted as a whole, with the exception of the introduction in the region the peacekeeping mission, the discussion of which is ongoing.
Comments
comments