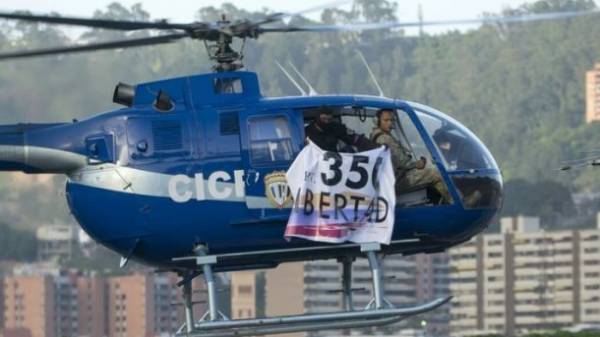 Unknown stole a police helicopter and attacked the Supreme court of Venezuela, to post it on the poster with the call to disobedience to the authorities. This was announced by the Minister of communications and information of the country Ernesto Villegas, RIA Novosti reported with reference to the channel NTN 24.
"One man took up arms against the Republic. He stole the helicopter and attacked the Supreme court," said Villegas.
Also, the network appeared the photo, which recorded a banner reading "350. Freedom." It is noted that we are talking about 350-th article of the Constitution about the possible non-recognition of the authorities in case of violation of human rights and democracy in the country.
#BREAKING VIDEO : Stolen helicopter drops grenades near Venezuela"s Supreme Court, gunfire heard pic.twitter.com/3hnbSzTvf6
— CK (@cngzkync) 28 Jun 2017
In turn, President Nicolas Maduro expressed his indignation at the incident.
"One of the pilots had previously been a pilot, Miguel rodríguez Torres, former Minister (MVD), which is in contact with the CIA. This action could lead to hundreds of injuries, " said Maduro and added that during the attack, the helicopter dropped two grenades, one of which exploded.
Comments
comments