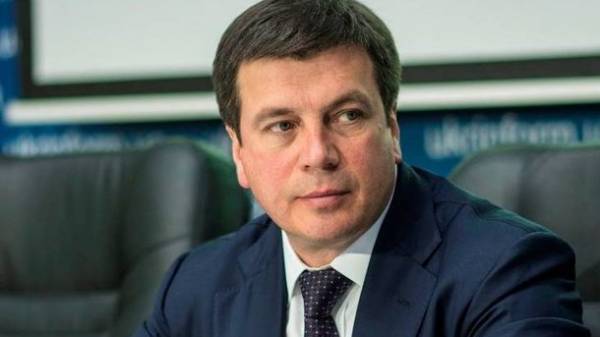 The Cabinet of Ministers of Ukraine approved by the Ministry of regional development, construction and housing bill, to which the United territorial communities (GRT) is entitled to dispose of state-owned lands within its territory. The head of the Ministry of regional development Gennady Zubko said on his page on Facebook.
As the Minister said, the document is called "On amendments to some legislative acts of Ukraine on land resources management within General relativity".
Zubko said that this bill is "long time waiting for all of General relativity": the law aims to strengthen opportunities and investment attractiveness of territorial communities.
"Provided a powerful resource and a new impetus for the development of local communities. The right to dispose of lands of state ownership, to address issues of development, to determine the appropriate base will attract a GRT investment funds for infrastructure projects and to manage them efficiently. This is an important decision in the framework of decentralization and strengthening the capacity of communities" – explained the Minister.
SEE ALSO
The Cabinet will submit to Parliament a new law on land
The bill assumes that General relativity will have the impact on all land plots on its territory – including the community will be able to set the fee for the use of land. Responsibility for such decisions will be borne by the local self – government body- local Council.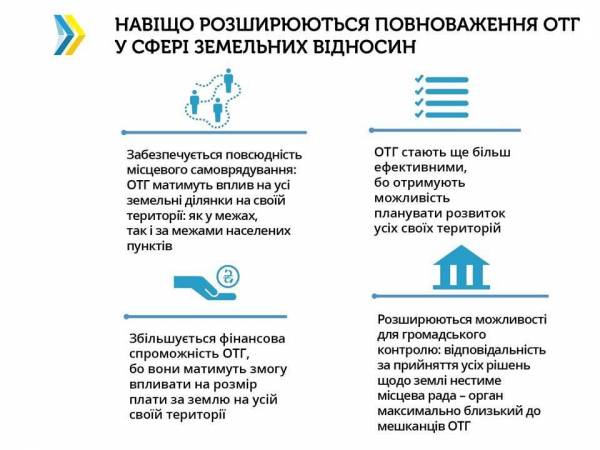 Infographic: Ministry Of Regional Development
Powers in land issues, which, according to the bill, will receive the community:
the transfer of land use or ownership (except land in private ownership);
the seizure of land, transferred for use (except land in private ownership);
sale of land (except land in private ownership);
the change of the target purpose of lands;
the amount of payment for the land.
However, these powers of General relativity will not apply to:
land conservation Fund of national importance;
the land on which is located the state property;
the lands that are in permanent use by government agencies.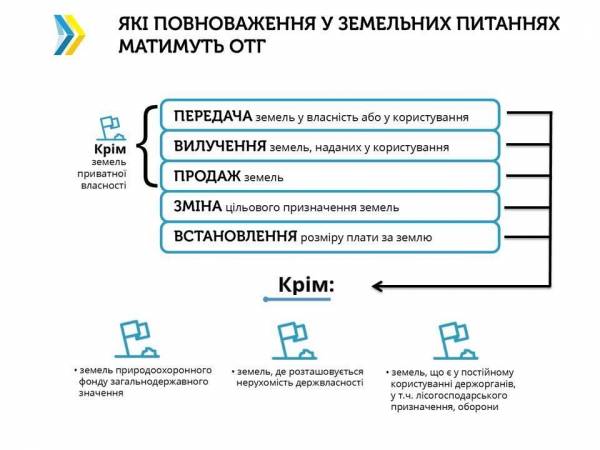 Infographic: Ministry Of Regional Development
We will remind, the Prime Minister of Ukraine Volodymyr Groysman announced five priority reforms in the autumn.
Comments
comments