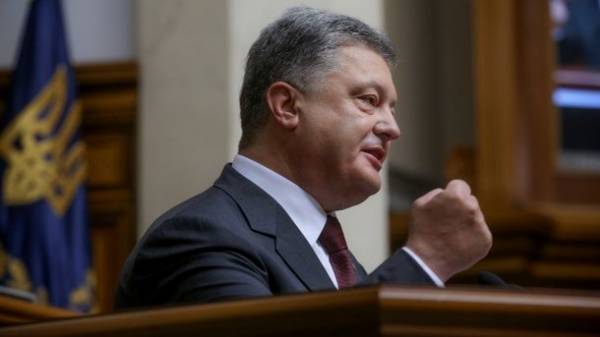 President of Ukraine Petro Poroshenko noted the advantages following the implementation of reforms in Ukraine. He said this during a speech in Parliament with the message to deputies.
According to him, thanks to the Association Agreement exports to the EU grew in the first half by 23% and the EU share in foreign trade reached 40%. The President recalled that in 2009 the proportion was 25%.
"This indicates the beginning of the process of integration of Ukrainian economy into the EU economy", – said Poroshenko.
He called the main result of the joint reform work of the government and society – the introduction of a visa-free regime with the EU. According to him, this became possible due to the 150 points of the plan of visa liberalization. The President noted that Parliament could take "uncomfortable" for MPs solutions such as e-Declaration of income.
SEE ALSO
What does the new political system: reforms and 250 "bayonets"
The President recalled that the standard of living fell sharply three years ago, and the growing distrust of the government.
"A country that 3 years ago had planned to wipe from the political map of the world, found the strength to fight, to change and move forward … but the problem requires more attention than the successes. The fact remains – society dissatisfied with the situation. We must act quickly, to give a second wind and the fight against corruption, and economic transformation. "Conservation" reforms leaves some countries on the margins of progress, " – said Poroshenko.
He recalled that approximately a year after the start of the election campaign in Ukraine, the politicians had a year to work on reforms.
Recall that the Association Agreement between Ukraine and the EU entered into force on 1 September. The website "Today" figured out how it will affect Ukraine and the impact on the lives of Ukrainians.
Comments
comments