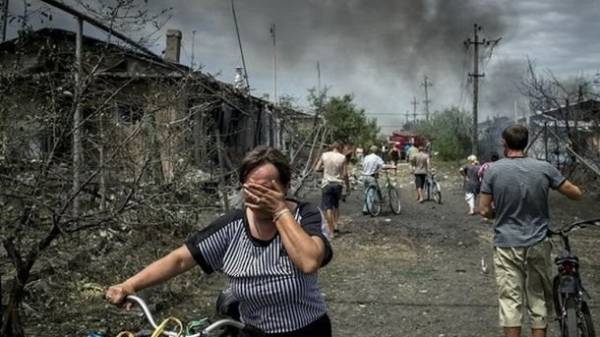 The liberation of the occupied territories will be political and diplomatic means, not by the example of the Russian military campaign in Chechnya, when Russia bombed the city and destroyed its citizens. This was stated by President of Ukraine Petro Poroshenko during his annual address to the Parliament, UNIAN reports.
He noted that Ukraine can not afford to bomb Ukrainian cities while liberating them from Russian troops.
"Why a political and diplomatic path is a priority for us? First, the enemy is stronger in urbanized areas with Metropolitan areas with large urban populations. There are citizens of Ukraine. We cannot and will not destroy its citizens in cold blood, as the Russian leadership did in Chechnya – in other cases, such a rigid "pacification" I can't even remember," – said Poroshenko.
SEE ALSO
There are signs that Russia is preparing to attack – statement by Petro Poroshenko
He also pointed out that the Russian army is much more powerful, and escalation of hostilities would prevent the economic recovery of Ukraine.
"Second, its military capabilities should not only compare with what we have in the occupied territories, and with all that is in the possession of Russia. Its army is second or third in the world by capacity. Russia's military budget is 16 times more army five times our size. The return of the conflict into a hot phase will put an end to all reforms and to restore the standard of living of Ukrainians, while the Ukrainian society is tired of war," – said the head of state.
As told by Petro Poroshenko, Ukraine needs to create in Russia such conditions, so she wanted to quit now occupied the Crimea, so as to take him by force in Kiev will not work.
Recall, 11 December 1994, Russian troops crossed the administrative border with the Chechen Republic.
According to the published after the end of hostilities the data, it became known that losses of the Russian troops amounted to 4103 people were killed, 1231 — missing/deserted/prisoners, 19 794 wounded. According to some data collected by a team of researchers headed by Colonel General G. F. Krivosheev, casualties of the Federal forces were killed 5042, 510 missing, 16 wounded 098.
The death toll among Chechens is estimated at tens of thousands of people. The Russian-speaking population is almost completely left Chechnya.
Comments
comments