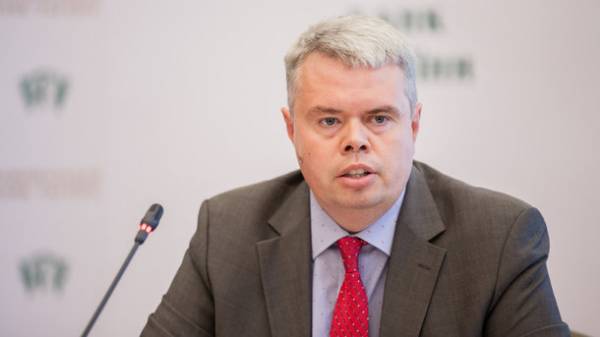 The national Bank of Ukraine (NBU) traditionally does not disclose forecasts, and the exchange rate regime – floating. This was stated by the Deputy head of the NBU Dmitry Sologub in his interview to "RBC-Ukraine".
"Projections are not targets. It's even funny to read, when they write that the course necessarily will be as laid down in the state budget. If you take and analyze over ten years, the rate that was budgeted and which turned out in fact, he almost never coincide," he said.
Speaking about the forecasts for the exchange rate of the hryvnia, Sologub also noted that it was possible under the de facto fixed exchange rate, the Bank then knew what course to set. "During the floating rate its dynamics is determined not by the national Bank and the market, and we don't have it in this way public statements with forecasts," concluded the Deputy head of the NBU.
SEE ALSO
"Devaluation is inevitable": in September the exchange rate of the dollar and the Euro in Ukraine
According to Sologub, a floating rate, to some extent, allows the market to have more liquidity and more arbitration. "In the past, as you remember if it was the devaluation pressure, everyone began to run in one direction. Now some run in one direction, if they need to buy the currency, and someone in a different – who need to sell it. So is balance, but this process requires time," he explained.
Sologub also said that this year one of the factors of a stable situation on the currency market is the improvement in the external environment, both in terms of prices and demand point of view. "Wheat and corn have increased export volume, while prices remained approximately unchanged. In metallurgy the reverse situation – the volumes dropped down due to the blockade in the Donbass, but greatly increased prices," — said Deputy head of the NBU.
Recall that with the arrival of autumn in Ukraine began to rise, the dollar, experts predict a further weakening of the hryvnia. So, today, September 4, the national Bank of Ukraine (NBU) has established such rates of major foreign currencies against the hryvnia:
1 USD – UAH 25,74;
1 Euro of 30.69 UAH;
10 Russian rubles – UAH 4,43.
Comments
comments