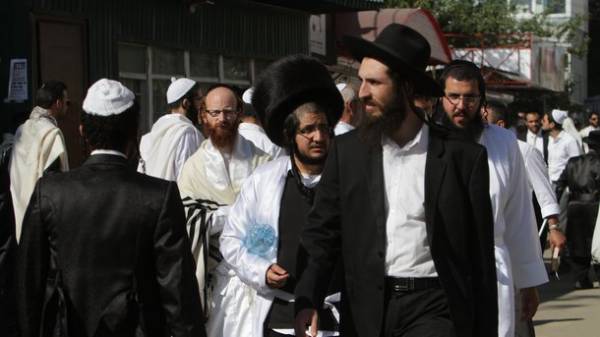 Employees of state frontier service of Ukraine are working on the organizational issues associated with the upcoming arrival of tens of thousands of Hasidic Jews traveling to Uman (Cherkasy region) to celebrate the Jewish New year – Rosh-ha-Shana, which will be celebrated September 20-22. About it reported in a press-service of the border service.
"For the organization of crossing the state border of the specified categories of persons, the state border service will increase the number of jobs and border guard with involvement of additional reserves. With the staff that will be involved in the implementation of border control of Hasidic pilgrims will be conducted relevant trainings and workshops," – said the press service.
In the border Department said such actions due to the fact that according to preliminary estimates the expected arrival of 40 thousand pilgrims – note that last year in Ukraine on the occasion of the profits , a record 31 thousand Hasidim.
As part of the preparatory activities the military participate in official meetings of the airports with the involvement of representatives of carriers to obtain preliminary information about the arrival of the pilgrims.
Also, checked the readiness of border checkpoints to implement the border control at separate traffic lanes and the creation of conditions for work of the control services.
SEE ALSO
Vandals have desecrated the grave of the daughter of Rebbe Nachman in Kremenchug
"The state border service officers to make every effort so that other travelers did not experience any inconvenience, but the registration of pilgrims and worshipers were held at the proper level. A priority for border agencies remains the safety of all citizens", – stressed in the frontier Department.
The head of national police Sergey Knyazev said that the public order during the celebration of the Jewish New year will provide police officers together with employees of the National guard.
SEE ALSO
In Kherson restore the tomb of a famous Hasidic Rabbi Hillel
According to him, in 2017 on the provision of public security in Uman is planned to involve about 500 policemen and at least 15 police officers of the state of Israel.
Comments
comments