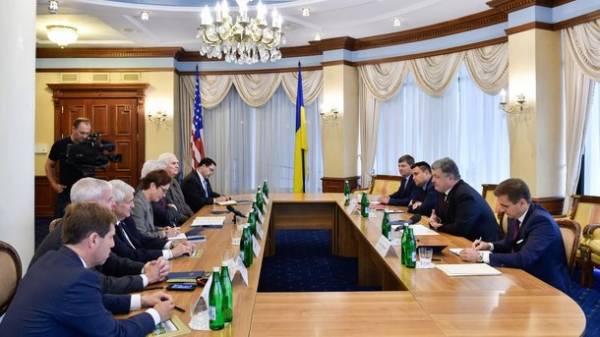 The President of Ukraine Petro Poroshenko has held a meeting with delegation of U.S. Congress headed by Chairman of Subcommittee on foreign activities, foreign operations, and related programs Committee on appropriations house of representatives Congress Harold Rogers, the press service of the President..
Petro Poroshenko expressed gratitude for the pivotal role of Congress in protecting the sovereignty and territorial integrity of Ukraine. In particular, he noted the favorable position of representatives Committee on appropriations in the matter of allocation of funds for programs to support Ukraine in the project of the budget of the United States in 2018.
SEE ALSO
Parubiy said, when the United States will take a decision on the Javelin to Ukraine
Petro Poroshenko also urged to consider increasing allocations for the programme of assistance in matters of security of the Ukrainian state, including the provision of arms of defensive character, as well as treatment and rehabilitation of Ukrainian servicemen.
Members of Congress are assured that it will continue to politically and financially support the Ukraine in its struggle for the restoration of the sovereignty and territorial integrity, and reform efforts of the Ukrainian authorities.
The President also expressed hope for the support of congressmen for the efforts of Ukraine aimed at official U.S. recognition of Holodomor 1932-1933 genocide against the Ukrainian people.
SEE ALSO
The state Department announced a tender for the purchase of non-lethal weapons for Ukraine
The us Congress congratulated with the expected entry into force from 1 September, the Association Agreement between Ukraine and the EU.
The head of state expressed his solidarity with the American people in connection with the negative consequences of the hurricane "Harvey", which hit Texas.
Earlier, the expert called the main condition for the delivery of lethal U.S. arms to Ukraine.
Comments
comments