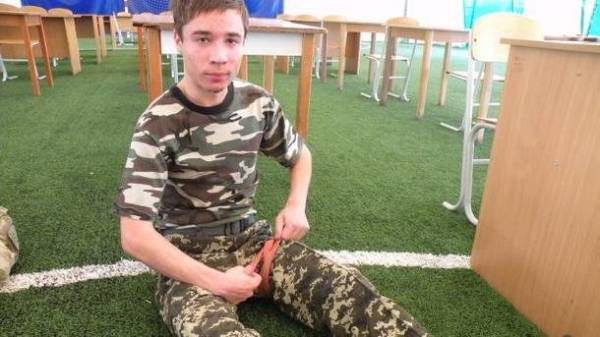 19-year-old citizen of Ukraine Pavel Mushroom, which disappeared in the Belarusian Gomel can be in Control of the FSB for the Krasnodar territory, reports the TV channel "112 Ukraine" with reference to the Belarusian service of "Euroradio".
According to unofficial information, the publication, Paul Mushroom really is in Krasnodar, the local FSB.
"But officially we have not confirmed this. Although not denied. A press-the officer of FSB of the Russian Federation across Krasnodar territory are strongly advised to call for comments in Moscow", – journalists report.
SEE ALSO
The disappearance of Ukrainians in Belarus: Lutsenko made a statement
Russian lawyer mark Feigin also said that Paul the Fungus may appear in the building of management of FSB across Krasnodar Krai.
"Such cases have already been. Then a man appeared in Russia and was made the statement by the FSB that the person moved abroad. He voluntarily came to the territory of Russia and gave himself up to the Russian authorities since learned that is wanted," he says.
"The scheme, which will be used for the explanation of how this guy, if they found, were on the territory of Russia, will be similar. It will be absurd in content and the same absurd form. Make a statement that he crossed the border. Will all say that it is illogical to believe this is impossible, since need to go to surrender to him there was no – one to worry about in Russia will not" – said the lawyer.
SEE ALSO
The disappearance of 19-year-old Ukrainian in Belarus: there is information from Minsk
Concerning the reasons why the FSB has chosen Paul Fungus, a Russian lawyer does not exclude that, maybe it's the Russian soldier, Unlike that captured in the Donbass and condemned in Ukraine.
Feigin did not rule out that the FSB is now "missing all, to whom you can reach out to gather a good number for the exchange."
Recall that the former border guard Igor Mushroom, which is developing a chaplaincy service in law enforcement bodies said that the Russian security services abducted his son Paul during a visit to Belarus. Hryb, FSB lured Paul in Gomel under the guise of meeting with the girl and held detention.
Comments
comments