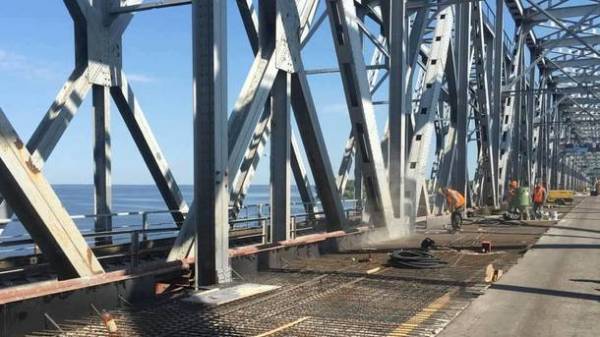 The repair of the bridge over the Dnieper river near Cherkasy planned to complete by the end of October, the press service of "Ukravtodor".
"On the right side of the bridge over the Dnieper river road, H-16 from Cherkassy end of the pouring of the monolithic concrete slab. 11 already concreted girders of the bridge, completely cleared of old concrete pavement. The bridge replaced 11 old deformed concrete slabs between the plates of the installation of a third expansion joint "Maurer D80″. Completed work on the installation of more than 600 embedded parts of the bridge for the future installation of new barrier fencing", – stated in the message.
At the facility around the clock in two shifts and employs about 70 people.
SEE ALSO
Poroshenko opened the bridge in Kharkiv region: the published video
In the dam across the Dnieper river road, H-16 milled more than 9.5 km of the roadway 8 km of road laid leveling layer of asphalt concrete over 6 km of the upper layer. Installed more than 11.6 km new metal barrier fence.
How to bypass
Not to spend additional time waiting for the trip to Cherkassy, in the service roads is recommended to cross the river or in the North in Kano, or in the South in Svitlovodsk.
For traveling from Kiev to Cherkassy suggest to use the route go along the road H-01 Kyiv – Obukhiv – Myronivka and continue on highway R-10 from Myronivka, in the Cherkasy. The length of this route is 198 km, which is only 8 km more than go along the road H-08 Kiev – Zolotonosha and H-16 Zolotonosha – Cherkasy.
We will remind, for the period of repair of the bridge introduced a schedule of cars, trucks full weight up to 5 tons, special purpose vehicles and buses working on routes of General use from 6:00 to 9:00 h and 16:00. to 19:00.
To carry passengers during the repair there are two additional diesel trains on the route "Cherkasy-Zolotonosha" and back. Departure time from Zolotonosha in Cherkasy at 12:02 a.m. and 14:41 hours .; from Zolotonosha in Cherkasy: 13:11 h and 15:52 h.
Comments
comments