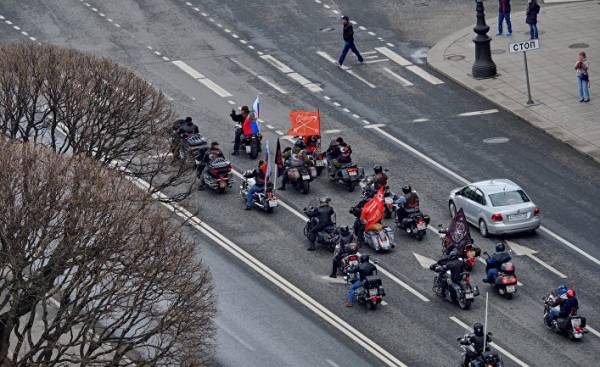 "The patriots, not Putin's agitators" — because of the Night wolves, Russian biker who these days traveled through the Czech Republic during the action in honor of the victory over Germany, speaks tomáš Buzek — the second person in the Czech fraternal "Night wolves" organization. According to the Secretary Buzek, what people say about them, just information war right. He believes that in recent years Russia has made a great leap, and the Czechs should take the example of the Russian patriots.
— Parlamentní listy: this year the rally "Roads of Victory", in which you take part together with the "Night wolves", was held for the third time. What's the situation? Have you experienced some kind of reaction people like the antics of the activist Wore, which showed the convoy of the us army naked ass?

— Tomas Buzek: so far, so good. Those participants who are not citizens of the European Union, are unable to pass through Poland, so they flew from Minsk to Bratislava, where he borrowed a motorcycle (in Slovakia this is not a problem) and continued our path with us.
In General, people treat us very friendly and we didn't have any problems. Only the poles refused to let one of the Russian "Night wolves" and deported him, although he was open visa. There are those among us Russians, who long lived in Germany and has EU passport.
— What this year's route and programme? Where you went and where you finish the trip?
Program traditional. We drive through the memorable places of fights of the Second world war, where there are graves of soldiers who died in the struggle with Nazi Germany. Not only Russian soldiers, but our, Polish, Romanian and others from all the countries that fought with Germany. Every time we come to the cemetery, lay flowers, followed by a moment of silence, and, if possible, is the Orthodox Church. Then we go further. This year we started in Moscow, then went to Minsk with a stopover in Bullfinches. It is the most close to the village of Moscow, which managed to reach the Germans. We also made a stop at Katyn, of Polish officers executed together with the Russian "Night wolves" honored and Polish riders. Then we went to Brest, where part of the "Night wolves" who do not have EU passports, returned to Minsk and flew to Slovakia. Next, we continued the path in Banska Bystrica and Bratislava and then to Budapest, Brno, Prague and now we are in Decin. From there we will go to Dresden and then in Torgau, where in 1945 he met the American and Soviet armies. Then it will be Seelow, and Berlin, where the ninth of may we will celebrate the Victory Day.
— Do you keep during a current trip for the turbulence in Czech politics and government crisis and a dispute between the head of state, Prime Minister and Minister of Finance?

— No, we're not interested. Our trip is apolitical. It is solely a commemorative event in honor of the victory over Germany. Of course, the Czechs in the column find out what's going on, and we have our own opinions about this, but here and now, that doesn't bother us. To our campaign all this is irrelevant.
— Some media credited "Night wolves" proximity to the President of Russia, as well as support the civil war in the Donbass and participation in the return of the Crimea Russia. Say that "Night wolves" support the Orthodox Church. Do you agree with these opinions? They are known lately spread primarily media Mastema, discredited from the ethical and professional points of view. Those who until recently belonged to Andrew Babish.
— You see, the problem is that in this regard there are people who do not know what they are talking about. Of course, this is the notorious propaganda, information war right. Of course, Crimea is a pressing issue, but we all know what percentage of Russians among its population, and what happened. Thank God that there was no fighting in the East of Ukraine. But the Donbass guys just live with that, they stood to protect their wives and homes. We understand this and in their situation would do the same.
If you talked with these Russian bikers, you would understand that they are just Russian patriots. They're all here pay for themselves: hotels, motorcycles, and get nothing from Putin. So what about the agitators it? And as their faith, then Russia experienced great change and rebirth, and now most of the country believes in God. National feeling and patriotism in Russia is huge, and we should bring the Russians in this example.
— No do you feel on itself, as the fraternal Russian "Night wolves" motorcycle club, some sanctions by the repressive authorities?

— No, we don't have any problems. On the contrary, we are fully cooperating with police authorities and other local bodies, no problem.
Comments
comments