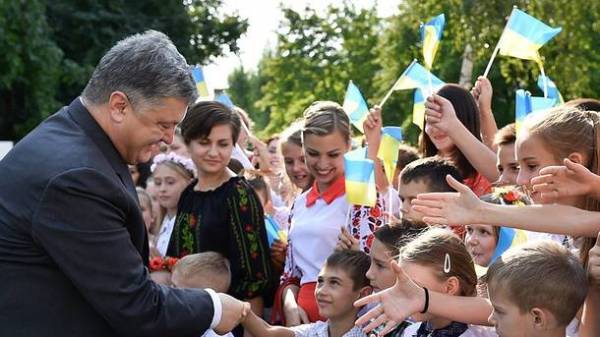 The President of Ukraine Petro Poroshenko today called for Pokrovsk Donetsk region. There he took part in the opening of reconstructed secondary school № 9. Small pupils met the head of state in embroidery, mentally sang the national anthem and recited the verse "Live, Ukraine to live for.". The President stared at the children and said that it was one of the best performances that he had ever heard in my life, transfers "112 Ukraine".
"I wanted to thank them for this verse, and it is a fantastic anthem. As President of Ukraine, as a citizen, as a patriot, proud of every performance of the anthem. Ukraine has changed dramatically, including in respect of its symbols – the flag, emblem and anthem. Can you honestly say that what I heard today in Pokrovsk – it was one of the best performances of the anthem I have ever heard in my life. You sang it fantastically, you feel every word. It is from these children grow up to be real Ukrainians. It is very important that the anthem we have the opportunity to hear here, in the Donbass. I sincerely congratulate you with another victory in the revival of Donbass", – said Poroshenko.
SEE ALSO
Poroshenko made an important statement about the future of Ukraine
The President also noted that despite the Russian military aggression, Ukraine will continue to invest in knowledge, education and training of young generations.
"I believe that our country will survive all the hardships, because its future is in the hands of these boys and girls," he said.
As you know, Poroshenko praised the "school" truce in the Donbas. He said this during his working trip to the East of Ukraine.
He noted that since the beginning of the ceasefire (from August 25) in the ranks of the Ukrainian army has no losses and has almost ceased firing.
Comments
comments