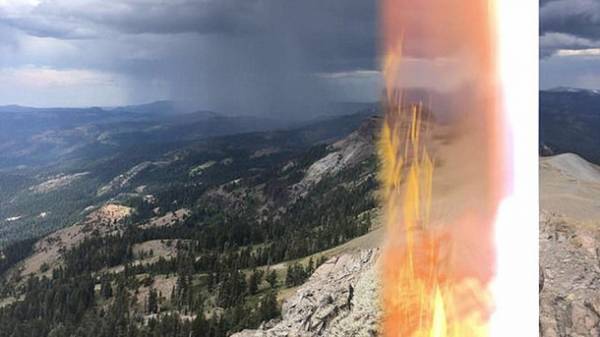 Austrian tourist, which made Hiking in the Sierra Nevada mountains in Northern California, injured from a lightning strike, got right into it.
The discharge was captured on mobile phone camera that the man held in his hands, to remove the views from the top of the mountain.
The Austrian, whose name is listed as Mathias, was camping with his girlfriend and friends. Lightning struck him on top of a mountain called Tinkers knob. Witnesses saw a flash and called rescuers who recorded the victim has serious burns on the body, reports the Daily Mail.
SEE ALSO
Video: anomalous lightning struck the mountain Mauna Kea
The man was able to move independently, albeit with difficulty. His clothes and shoes were also burned in several places. He was taken by helicopter to a local hospital, his condition is stable.
At the time of the lightning strike Matias did a photo on your phone, which eventually survived. The resulting photo shows a white-orange strip crossing the screen vertically.
Earlier it was reported that in one of the parks in Tokyo after a lightning strike, was hospitalized nine people.
Comments
comments