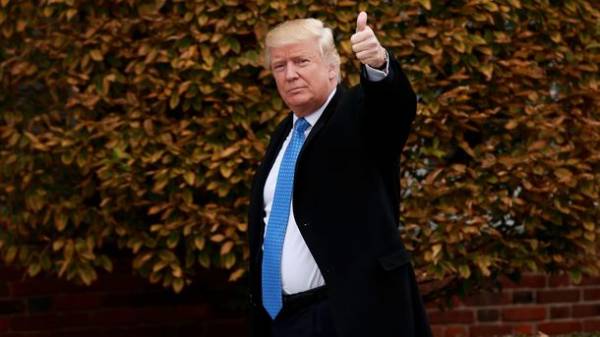 Rare archival photo of the US President during his visit to Moscow published on the Internet. Rare archival the newly elected 45th President of the USA of Donald trump during a visit to Moscow in 1996, published in the social network a well-known blogger Rustem Adagamov writes topnews.
Then another businessman Donald trump visited the Russian capital to build a hotel here.
"Rare photo: Donald trump and Lenya Golubkov (character advertising campaign of the joint stock company MMM in 1992-1994, played by actor Vladimir Permyakov. – Ed.)" in one picture," Adagamov signed on his Twitter page unique the.
Rare photo: Donald trump and Lenya Golubkov (left) in a single shot.
Moscow, 1996 pic.twitter.com/RerO5T4N1x
— Rustem Adagamov (@adagamov) 22 Aug 2017
Internet users with nostalgia took photo, having begun to joke about the entourage 90s, then accompanied such events, and especially about the character of Leni Golubkova, not coming down at the time from TV screens.
"Trump has a fantasy: buy the wife boots", "We're not freeloaders – we're partners!", "Equivalent person", "Mmm-tramp. Pararam", "tramp come stock MMM bought", "If not for Lenya Golubkov, not to be President", "As the poet said Wisniewski: "Oh, how I starved myself without presentations!", – joked the commentators.
Some even saw in the picture of Venezuelan President Nicolas Maduro: "There is more and Maduro on the right has wormed his way…"
Recall, Donald trump had planned to build in Moscow elite residential complex for foreign businessmen, for which several times visited the capital of Russia for business negotiations.
Comments
comments