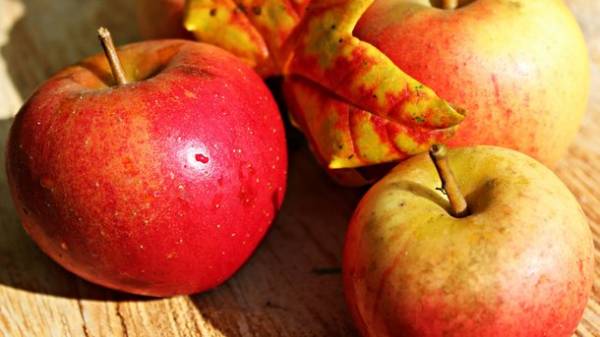 It's time Apple and Walnut Spasov, 19 and 29 August, respectively. Our expert Elena Svitko, naturopath and herbalist, told us how to make apples and nut blanks, which have a therapeutic effect.
THE USE OF APPLES
FLOUR — FOR THE DIGESTIVE TRACT
Slice apples with peel on the slices. Dry them (in a dry, warm, well-ventilated place or by using dryers at 40-45 °C, the slices should break when bent). Grind them in a coffee grinder and sift. Every night drink a half-glass of buttermilk, adding 1 tbsp. of Apple flour. This drink improves performance of the digestive tract: flour — a source of pectin, a sorbent toxins, and the peel contains substances that have an antiseptic action.
MASHED POTATOES — FROM WRINKLES
Cook the apples whole in a small pot in the milk 10 minutes after boiling. Cool to warm, and whisk blender to puree. Apply a thick layer 1-2 times per week on clean skin for 15-20 minutes. This mask nourishes, moisturizes, tightens pores and has a light lifting effect.
2-3 apples, chopped a stalk of horsetail and leaves of cowberry (50 g), 1 tbsp licorice root fold in three-liter jar (all plants are sold in a pharmacy). Add half a Cup of sour cream and 2-3 tbsp of honey and set the jar on three days in the sun. The kvass is ready! Pour it in a tightly sealed bottle and store in the refrigerator. Drink 2-3 cups 30 minutes before a meal. The brew will be toning and beneficial effect on renal function.
SEE ALSO
In Ukraine is gaining popularity honey with unusual additives
THE USE OF NUTS
In equal parts (100 g) chop walnuts, hazelnuts and filberts (preferably cedar), still in the shell. Put in a quart jar, fill with vodka and soak for 7-10 days in a cool dark place. Take 20 ml before lunch. This aperitif is primarily rich in zinc and b vitamins that improves brain function and tones the entire body.
COFFEE WITH BUCKWHEAT — FROM EXHAUSTION OF THE CNS
Grind in a coffee grinder 100 g of walnut kernels and light buckwheat. Dissolve mix 1 teaspoon three times a day for 45-60 minutes before meals or 2 hours after. The high content of lecithin, unsaturated fatty acids and b vitamins (on average 5 times more than other sources) has beneficial effects on the functioning of the Central nervous and cardiovascular systems.
PASTA WITH DRIED FRUITS AGAINST FATIGUE
Equal parts beat with a blender (or mince) the walnuts, dates, dried apricots, raisins and honey into a homogeneous mass. Eat the resulting paste with your morning tea or coffee. This dessert — energy "bomb" which prevents fatigue and reduces its magnitude.
Comments
comments