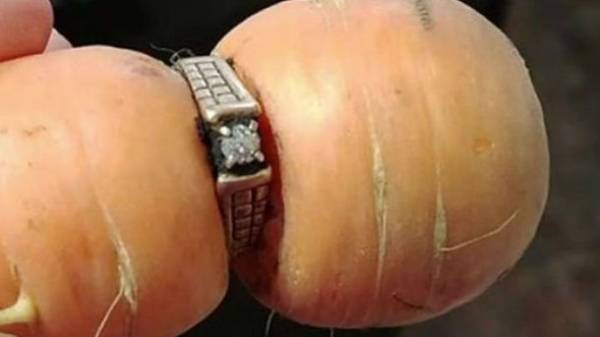 84-year-old resident of Canada Mary grams returned lost in the garden 13 years ago, a gold wedding ring with diamonds.
It turned out that the ring sprouted carrots they pulled from the earth the daughter of the woman.
Grams dropped the ring from her finger, when weeding the weeds outside his home in September 2004, according to SAF.
SEE ALSO
The largest gold ring in the world showed at the exhibition in UAE
Attempts to find the ring were unsuccessful, and the woman, having told nothing to the spouse, ordered and started to wear it a duplicate. After that, the couple moved to another city, but the farm remained in the ownership of their relatives.
When the daughter-in-law grams Colin Daly found the carrots put on her ring, she showed the find to her husband, and he immediately recognized the jewel that belonged to his mother.
Grams going again to start wearing this because it still fits on her finger.
Earlier it was reported that in the U.S. state of Missouri husband accidentally threw in the trash the wedding ring of the wife of 12.5 carats worth about 400 thousand dollars.
Comments
comments