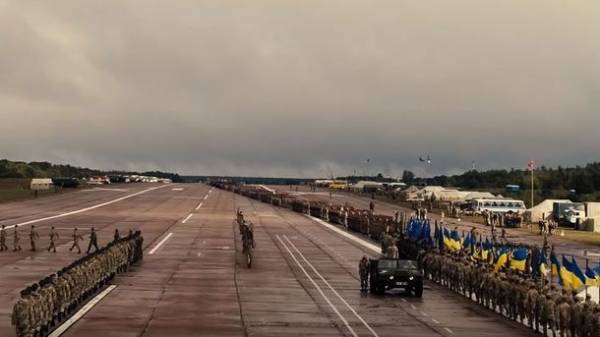 The General staff said that the forces of the antiterrorist operation in the Donbas will get 67 units of new military equipment after the parade in Kiev on Independence Day, August 24.
This was reported by the press service of the General staff of the Armed forces of Ukraine (AFU) on his page on Facebook on Monday evening, August 14.
According to a report today in Kiev Separate regiment of President of Ukraine held drill review equipment and weapons, which will be on display at the exhibition "Power unconquered" on Khreshchatyk 22 to 27 August.
SEE ALSO
The staff showed a rehearsal of the parade from the height of bird flight
"New and modernized samples of weapons and military equipment for the exhibition ready. They were developed based on the experience of the ATO, the designers have taken into account the comments and suggestions of the soldiers who took her during the fighting," – said the chief of Armaments of the APU General-major Nikolay Shevtsov.
After the parade in the area ATO will receive self-propelled artillery, tanks, various modifications of armored fighting vehicles, trucks, ambulances, etc.
As you know, August 24 in Kiev on the street Khreshchatyk and independence square held a parade and display of weapons and military equipment of the Armed forces of Ukraine.
Earlier it was reported that the Georgian military led by defense Minister Levan Izora will take part in the parade on the occasion of independence day of Ukraine on August 24.
Comments
comments