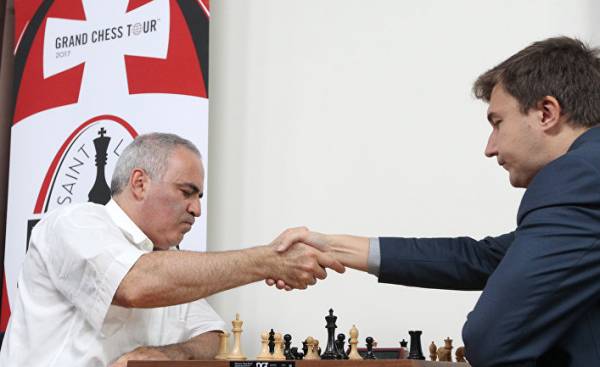 "It really sucks that the first game after the "comeback" Kasparov has become a game with Sergey Karjakin," says Atle Grønn (Atle Grønn), the author of a chess column Aftenposten and Professor-specialist in Russian Philology.
Kasparov not only played against one of the strongest players in the world Sergey Karjakin. He also played against the man who embodies Putin's Russia is a political system that Kasparov hates and which makes him disgusted.
After 12 years
Chess legend, the man, who was named the best player of all time, was for the first time in 12 years to play in the tournament of the highest level. The return of Garry Kasparov to the chess Board ended in a draw.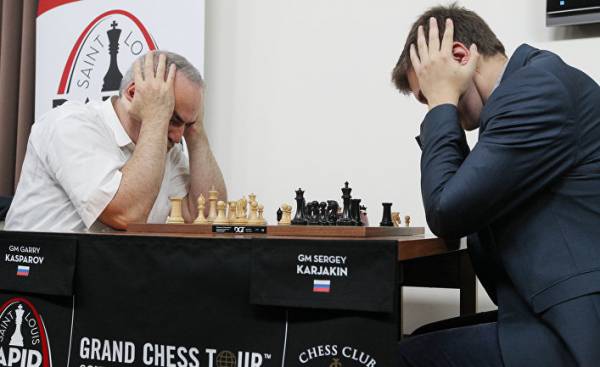 © AFP 2017, Bill GreenblatГроссмейстер Garry Kasparov and GM Sergey Karjakin
"Obviously, it was a game of chess, that Kasparov was extremely important not to lose. I am sure that he was nervous, although he — man is usually just bursting with self-confidence," says Grenn.
Kasparov returned to chess at the tournament on rapid and blitz chess in St. Louis. On the other side of the Board sat Sergey Karjakin. The person who threw the challenge Magnus Carlsen in the match for the world title and, in truth, the favorite — despite kashpirovskie brilliant qualities as a chess player in the past.
Behave well
This party had significant political component. Sergey Karjakin (originally from Ukraine) — a staunch supporter of President Vladimir Putin. Garry Kasparov (originally from Baku in Azerbaijan) does not get tired of the same Putin to criticize.
Karjakin lives in Moscow, welcome the friends of Putin, they are sponsors, while Kasparov lives in a kind of exile in new York, where he moved after Putin's supporters began to threaten him.
"Before, between these two has been quite a sharp discussion, but before the game both behave to each other politely," says Atle Grønn.
Kasparov tried to make a career in Russian politics. Failed, and he fled the country after numerous threats and attacks. He is now a citizen of Croatia, he had a summer residence in Croatia and the apartment in new York.
Two great
"In fact, in the world of chess there are only two superstars. One — Magnus Carlsen, the second — the old master Garry Kasparov".
But — although Kasparov has a lot of supporters, and they still admire the fact that he did in those 15 years, when unconditionally reigned in chess is not to say that his participation in the tournament in St. Louis, which is held after the traditional tournament, the sinquefield Cup, tie some special expectations.
"For him in the first game the most important thing was to avoid defeat. Therefore, we saw cautious Kasparov," — said Atle Grønn.
He thinks that Kasparov quickly may be among the four or five strongest team of the tournament at rapid and blitz chess, which involves 10 best of the best. Actually there is no only our own Magnus Carlsen. Russians in exile said that this return phenomenon is singular.
"If all goes well, then I think he could be tempted to try their luck in traditional chess. But he has a legendary status that we need to take care of," says Grenn.
Comments
comments