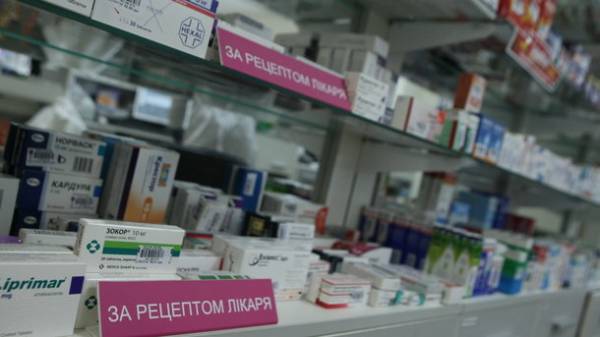 In Ukraine continue to rise in price of medicines. About it tell the data of price monitoring for the year in five cities of the country, given "Today" by the experts of the Economic discussion club (EDK). The price of drugs increased by 10-13% — about like pensions. And because retirees — the main customers of pharmacies.
Last week Prime Minister Vladimir Groisman has instructed the Ministry of health, Ministry of internal Affairs and Ministry of economic development to find out why some hospitals are purchasing medicines at inflated prices, causing higher prices in the market. The Prime Minister called four drugs: paracetamol, aspirin, onopen and adrenaline, indicating that the recorded facts of their purchase at a price 90% higher than the national average. "It's only four drugs. Such actions require the attention of law enforcement bodies", — said the Prime Minister.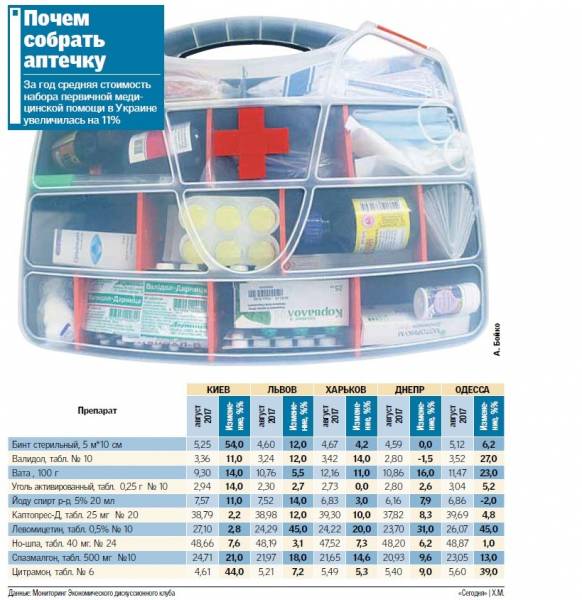 MONITORING. "Today" picked up the first aid kit minimum of 10 positions (see infographic), which includes the most necessary for first aid: bandages, cotton wool, iodine, cardiac, pain. It turned out that the most expensive pharmacy in Odessa (UAH 173). During the year it increased by UAH 18 (11.6 percent). In Kiev — UAH 172 and also have an increase of +10% for the year. The cheapest first aid kit — in the river: 163 UAH (+10,5%). And most of all for the year hit on the wallet Lviv first aid kit — the increase from 148 to 167 UAH or 13%.
WHY EXPENSIVE. As explained to us, the Executive Director of the EDC Oleg Pendzin, the market prices of medicines are not regulated by government. "The ratio of prices in different regions depends on the volume of demand and supply for certain drugs, said Pendzin. Special decisions on pricing policy are each more or less large network of pharmacies, it also affects the formation of prices in the region. Overall for the price situation, because of the high import dependency as packaged medicines, and the components of the pharmaceutical manufacturer a huge impact on prices is the exchange rate of hryvnia to the dollar and the Euro. Therefore, any depreciation of the prices corrected".
Experts predict that, despite long-term strengthening of the hryvnia (in six months the average rate has changed from 27.2 to 25.8 UAH/$. — Ed.) it makes no sense to expect lower prices in the pharmaceutical market since the currency risks of its autumn rise in price, as financiers say, still laid in the price.
Comments
comments