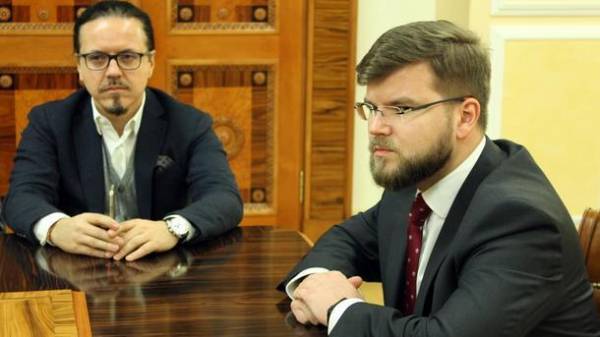 Wojciech Balczun, who had served as head of "Ukrzaliznytsya" little more than a year, resigned. Prime Minister of Ukraine Vladimir Groisman promised that soon will be a competition for the position, but the position of interim leader will go to the Deputy Minister of infrastructure Evgeny Kravtsov, who previously was an acting head of Ukrzaliznytsia.
Previously managed Kravtsov?
About the biography of Evgeny Kravtsov is known not too much. He graduated from the KNU. Taras Shevchenko, specialty "Jurisprudence", and later a private higher educational institution "European University" in specialty "Management of foreign economic activity". He also received a certificate for the course "International commercial law" at the Center for international trade development and the Fulbright international.
He started his career in 2006 by the consultant of the International chamber of Commerce (the National Committee in Ukraine). Since 2008 he is almost 6 years working in the Ukrainian law firm "asters", and later became her partner. During the work he has advised world-leading companies such as VTG Aktiengesellschaf (logistics services), Google, Motorola Mobility.
After a legal career in January 2015 Kravtsov went to work on "Ukrzaliznytsya", the adviser of the General Director, and later head of the Department of reform and corporate development. In may 2015 Kravtsov was appointed the Director of reform, legal and property policy of "Ukrzaliznytsya".
30 March 2016 the Cabinet of Ministers dismissed the head of "uz" Alexander Zagorodnogo and appointed acting Kravtsov. There he worked until may 25, 2016, until he became Deputy Minister of infrastructure of Ukraine.
What is the approach to reform?
By the way, that he was one of the authors of the new Charter of PJSC "Ukrainian Railways" and the latest edition of the law of Ukraine "On railway transport".
During his leadership "Ukrzaliznytsa", he strongly advocated to develop the company to the European level, to begin cooperation with private carriers and may enter into cooperation with them.
Evgeny Kravtsov has repeatedly called himself a supporter of public-private partnership and saw this as a prospect for the national carrier. Kravtsov said that some of the routes in the "Ukrzaliznytsia" quite unprofitable, so he considered it necessary to attract investors to reduce losses from such passerovat. According to the official competition in this area should replace monopoly.
"Private investor will be more clearly control the question of costs, development trends and so on", – the Interfax of a word Kravtsov.
What have Kravtsova?
In return for the 2015 stated that his total income amounted to 654 thousand UAH. And 491 thousand he received from entrepreneurial activities.
In the inventory of his estate recorded flat area of 121.5 sq m, land -0, 1715 hectares and two cars – Lexus IS 250 and the Toyota GT-86 the use of the family. And in the Bank account of the official – only 17 760 UAH.
Comments
comments