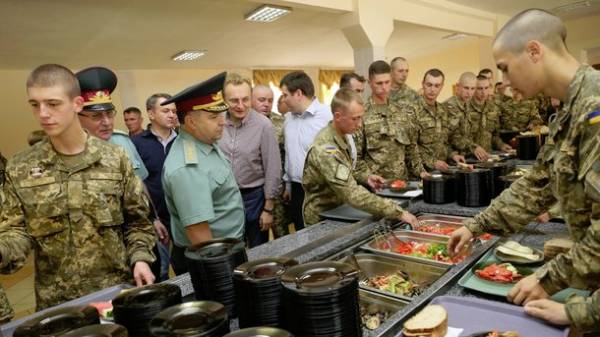 The Ministry of defense of Ukraine has strengthened control over the quality of the food soldiers. This was announced by the head of development and support of the material support of the armed forces Dmitry Marchenko, the press service of the defense Ministry.
"On behalf of the Minister of defence, we have strengthened the quality control of catering services and products that are (military – Ed.). While checking the new party suhpaykov 54 thousand dry field sets were rejected, they not joined the army due to the fact that he was poorly," he said at a briefing on Wednesday in Kiev.
Marchenko also informed that since the beginning of 2017, the specialists of the Ministry of defense has carried out 93-unit to check the quality of food.
SEE ALSO
The APU team stole 5 million on food for the military
"By results of checks by the Department of procurement and supply of resources submitted 44 claims in the amount of 2 million 801 thousand UAH", – he said.
As of August 9, 2017 the appropriate laboratory of the Ministry of defense spent 21 thousand 572 test foods (in General, 15 thousand 345 tons of food).
"1 thousand 432 tons were returned to the manufacturer due to the fact that was substandard," – said the representative office.
"In accordance with the contract, the supplier for the supply of defective products pays 20% of the cost of service, namely 20% of the amount act on the day of discovery of such violation, – said Marchenko.
He recalled that under current legislation food to soldiers procures and supplies not directly the Ministry of defence and suppliers, which signed the relevant agreement.
We will remind, in Lviv detained armored plant.
Comments
comments