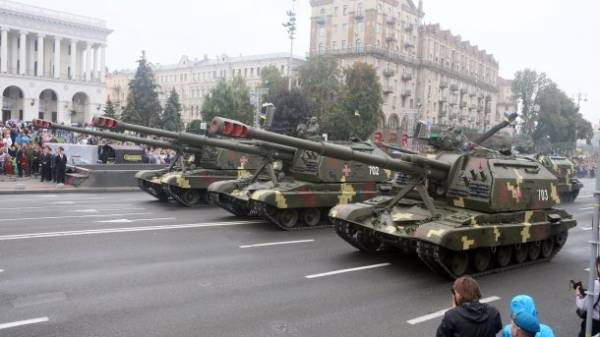 On independence day August 24 in Kiev held a military parade in which will take part the military personnel of NATO countries, and will also be an exhibition of military equipment with the latest models. This was stated by Minister of defense Stepan Poltorak, reports Interfax-Ukraine.
According to him, during the Independence Day celebrations in Kiev will organize an exhibition of military equipment.
"This year we took the decision concerning the equipment exhibition, which will be at the Independence square. All will be put up about 70 units, of which 25 units is brand new equipment that is designed and constructed in our factories of the military-industrial complex, part of the equipment is modernized," – said Poltorak.
SEE ALSO
In August, Ukrainians waiting for four weekends in a row
He also noted that Ukrainian military units, which proved in the Donbas, this day will be awarded honorary degrees.
One of the main events of the parade in Kiev Poltorak calls the participation of NATO troops.
"Also this year, a lot of our partners have expressed their desire to participate in the celebration of the Independence Day of Ukraine. A number of us will be representatives of the Armed forces of the Alliance and our partners with whom we work with which we learn and which help us to carry out the reform of the armed forces and Ministry of defence", – said the Minister and added that all will walk on Khreshchatyk 4.5 thousand military. He stressed that the parade will take part the representatives of about 10 countries.
The Minister stressed that the military parade will not be used for additional funding – the only money that is laid according to the norms of security. "Additional funds for the parade do not need, and we don't use them".
As reported, soldiers of the National guard and other law enforcement agencies conducted training of parade in honor of independence Day of Ukraine. Rehearsal for the passage of the "boxes" were carried out on the territory of the aircraft plant. Antonov in Kiev.
Comments
comments