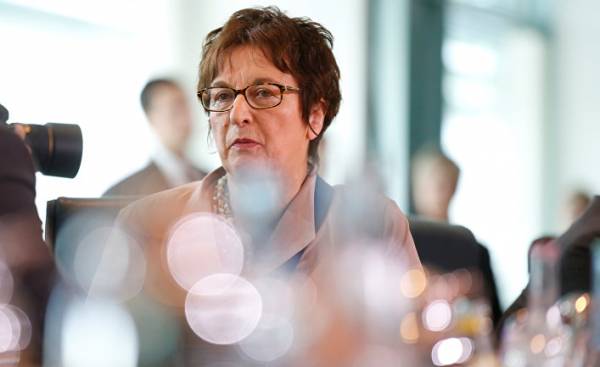 In Germany and in Europe should make prudent use of energy and faster transition to renewable energy. It is reasonable both from an economic and from an environmental point of view. In Germany we have embarked on this path by turning to our energy policy. And we are making good progress: about 35% of electricity consumption is from renewable energy sources. Energy security has for any country of great importance. This applies to Germany, but, of course, also to the USA and Russia. In addition, it is important for us the fact that we still cover a large share of our energy needs through imports, as many other EU countries.
In the era of globalization of energy markets increasingly influence each other. This has also impact on energy prices. Thus, the development of gas prices in the US, of course, has an impact on the price of gas on the European market. That is why it is important that we have agreed within the EU and with our American and Russian partners about the following: import and export of energy should never be a political or economic weapon. Still, it was not, and this should not be in the future.
I regret that the coordinated actions of Europe and the United States questioned the last law on new sanctions against Russia. 2014 Europe and the United States, in close coordination responded to the illegal annexation of Crimea and Russian actions in Eastern Ukraine. Unfortunately, this coherence can now be interrupted. Of particular concern to me in this context, the threat of extraterritorial sanctions against non-us firms that are involved in the construction, operation or maintenance of pipelines from Russia to export natural gas or oil. Thus, if one European firm will participate in the expansion of the supply of Europe with energy, it must reckon with the fact that she may have problems in the implementation of its activities in the United States.
We cannot accept the extraterritorial application of these U.S. sanctions against European firms.
I am firmly convinced that it is aware of the U.S. administration, and that President trump will be able to use the information provided to it by the legislation of the freedom of action that do not result in such sanctions. This would be a clear signal that continuing close coordination between the US and the EU.
The formation of energy policy and the decision to use certain types of energy, each state carries its own. We in Germany after our turnaround in energy policy focus on more renewable energy and greater energy efficiency. Thus, we do clean our energy supply and at the same time become more independent from energy imports. Market participants decide for themselves what ultimately is bought on the market. There should be no barriers to trade, and especially no thus to support their own firms. The European internal market, open and free to all imports of gas, including liquefied natural gas (LNG) from the United States. Ultimately, however, the market itself and a buyer of gas to make the decisions about the offer and price will determine which product they buy.
Ultimately when buying a gas it is also about security of supply. Gas markets in Europe are functioning well, they are very liquid and the security of supplies in Germany and Europe is high.
This high security of supply we want to and will provide in the future. For this we also need pipelines. Policy dialogue is more necessary than ever before. This underscores, by the way, in several places, and the new U.S. law. So, I hope the US administration in the near future came into contact with the EU and its members on the question of how this successful cooperation of the past years continues to be filled with life.
We are always ready to dialogue and I hope our American partners will accept this offer of negotiations!
Brigitte zypris the Minister of economy and energy of Germany.
Comments
comments