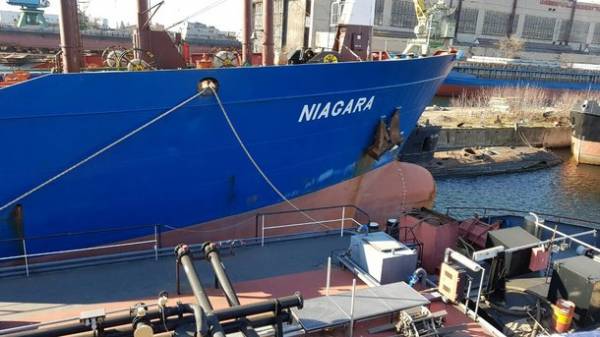 The system of electronic auctions of seized property (SETS) 31 Jul sold two Russian tankers, previously owned by bankrupt companies "Volgo-don ship Agency" (Volgograd, Russia) for a total amount of 10.1 million UAH.
The starting price of electronic auction for the Russian tanker oil tanker "Borislav" has increased 3.5 times – up to 5,113 million UAH, of chemical tanker Niagara – more than doubled, to 5,012 million.
Nine bidders for "Borislav" 30 times increased the rate from 9:00 to 21:31 on July 31.
For chemical tanker Niagara traded five participants from 9:00 to 19:06.
SEE ALSO
The privatization of "President Hotel" broke
Note, after the bankruptcy of OOO "Volga-don ship Agency", the company's property sold for debt. The company owes 40,094 thousand dollars firm, Cye Petrol Tic Ltd. Sti (Istanbul, Turkey).
The chemical tanker is "Niagara" has a length of 103 meters and width 14 meters. Draught of the vessel is 3.7 meters, Board height — 6,14 metroa, and deadweight — 4035 tons.
Tanker oil tanker "Borislav" in a length of 77.5 meters, a maximum width of 14.3 metres, has a height of 6.5 metres and draught — of 5.41 meters, the deadweight is 3197 tons.
We will remind, sale of shares of "Motor Sich" was canceled, while "Ukrainian exchange" does not disclose the reasons for the failure of the auction.
Comments
comments