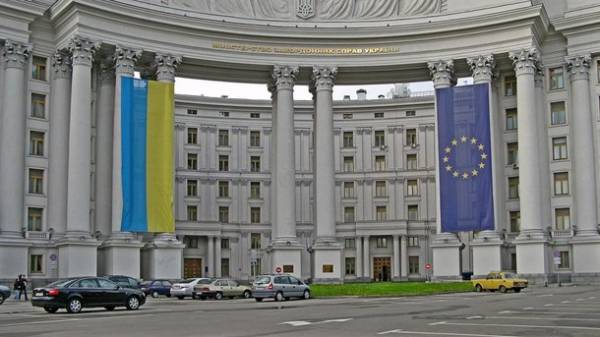 The Ministry of foreign Affairs of Ukraine considers the decision by the Russian leadership of the law to simplify the adoption of Russian citizenship by citizens of Ukraine as a complete disregard of international law and calls on Ukrainians not to succumb to such provocations.
"We regard this step of the state-aggressor as a continuation of legal discrimination and infringement of rights of citizens of Ukraine who owing to various circumstances live or work in the territory of Russia, and also in the occupied territory of Ukraine. In this regard, we call upon the citizens of Ukraine not to succumb to such provocations and once again warn against the implementation of the trips to the Russian Federation", – is spoken in the comment of the MFA of Ukraine on Monday.
SEE ALSO
Ukrainians with Russian passports bezviz receive – Poroshenko
The foreign Ministry called the decision of the Russian authorities "evidence of the complete neglect on the part of the aggressor state of international law and the sovereignty of other States", stressing that the rejection of the citizenship of Ukraine in the form of a notarized statement renouncing the Ukrainian citizenship to the authority of the country of nationality are insignificant in essence and content. "According to the current legislation of Ukraine, the only document certifying the fact of termination of the citizenship of Ukraine as a way out of him, and his loss is a corresponding decree of the President of Ukraine", – reminded the Agency.
In the foreign Ministry assured that in case of violation of the rights and interests of Russian citizens of Ukraine will receive all necessary consular support in the diplomatic and consular institutions of Ukraine.
SEE ALSO
In Russia will introduce the procedure of "public renunciation of the citizenship of Ukraine"
As reported, the state Duma adopted the amendment on simplified obtaining Ukrainian citizenship of the Russian Federation on the basis of a notarized renunciation of citizenship of Ukraine: citizens of Ukraine from September 1 introduces the rule that the rejection of Ukrainian citizenship is confirmed by the statement of the person, which he sends to the appropriate authority of that country. A document that confirms the refusal of the Ukrainian citizenship is a certified copy of a citizen renouncing their citizenship of Ukraine.
We will remind, on July 30, Russian President Vladimir Putin signed the relevant law.
Comments
comments