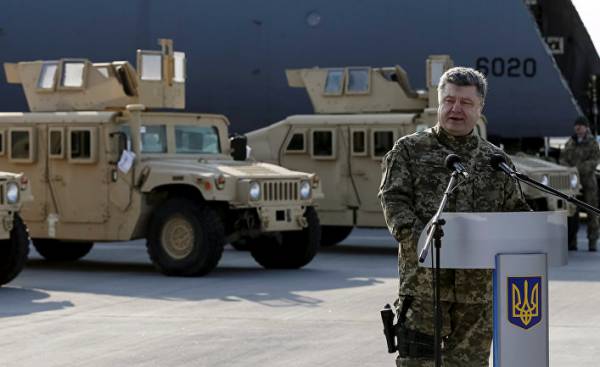 The new US special envoy to Ukraine said that the administration trump is actively considering to provide arms to Ukrainian government troops, so they can defend themselves in clashes with Pro-Russian separatists.
"Defensive weapon, i.e. a weapon that will allow Ukraine to defend itself and, for example, to confront the tanks, can really help," said Kurt Volker (Kurt Volker), the U.S. special representative in Ukraine, in an interview with BBC on Tuesday, July 24, adding that such a move could change the approach of Moscow to the region where, according to UN estimates, since April 2014, has already killed about 10 thousand people. "I can't say what decision we will take… But, I think, stating that such actions will provoke Russia or give Ukraine a reason to behave more boldly, only put the problem down on the head."
The conflict in Ukraine that began in 2014 after the overthrow of then-President Viktor Yanukovych broke out after Russia annexed the Crimean Peninsula. Since Moscow is accused in the fact that it supports separatists in the East of the country, although she denied direct involvement in the conflict. In February 2015 signed an agreement on a cease-fire, but the requirements of this agreement were not performed fully. Last week, the U.S. state Department strongly condemned what he called "the bloodiest day 2017," when 24 hours killed eight Ukrainian soldiers.
Russia has long considered Crimea part of its territory (in 1954, Soviet leader Nikita Khrushchev gave this Peninsula to Ukraine), and Ukraine part of its sphere of influence. Pro-Western government in Ukraine removes Moscow from themselves, and at least part of the steps of Russia in this region due to its desire to strengthen its regional status.
Although the United States strongly protested against the actions of Moscow in Ukraine, they did not want to give Kiev lethal weapons. Steven Pifer (Steven Pifer), senior research fellow at the Brookings institution and former U.S. Ambassador to Ukraine during the Clinton administration, explained to me that this policy of the administration was largely due to fears of President Obama, who was afraid that giving Ukraine lethal weapons, it could trigger an escalation of the conflict. "Two years ago, no one could say, "We like this idea". Because they knew that the President has already decided, and that he is trying to be careful, explained Pifer. — As for now, I don't think President trump has already taken a position, therefore, the officials feel a certain freedom."
While trump details not outlined his position on the issue of Ukrainian conflict, but officially he still has not ruled out the possibility of providing weapons to Kiev. Earlier in July, during his visit to Poland, trump urged Moscow to "stop destabilizing activity in Ukraine and wherever it is". And in June, during the visit of the President of Ukraine Petro Poroshenko to Washington, trump told him that the Ukrainian crisis is very much concerned with. But where trump costs only a General wording, other government officials make very specific statements. In his address to the Senate Committee on the armed forces General of the U.S. air force Paul Selva (Paul J. Selva), Vice Chairman of the joint chiefs of staff, said providing lethal defensive weapons to Ukraine is "not merely a military." He added: "It is a political choice, namely, we are ready — or not — to give the Ukrainian government the tools it needs to protect from those whom we believe Russian-backed insurgency in the Donbas."
According to Pifer, if the US gives Kiev lethal weapon, it not only will give the Ukrainian forces the ability to more effectively defend themselves, but will also force Moscow to agree to a political settlement of the conflict. "No representative of the Ukrainian side claimed that they are going to use force in order to oust the Russians and separatists from Donbass — they know they can't defeat the Red army, he said. — The point is to give Kiev an opportunity to raise the price of further aggression for Russia and the separatists."
It is likely that Russia sees the situation differently. Although Walker insists that providing arms to the Ukrainian troops should not be regarded as a provocation, Moscow is unlikely to share his point of view. "There is a chance that Russia will go to the escalation, and, from my point of view, we must recognize the existence of such risks", — said Pifer, adding that since the Russian did not seek to resolve the conflict, it can get stuck at a standstill.
"Until the conflict has reached the point where they began to seek a way out, — he added, — we must somehow find a way to affect the calculations of the Kremlin."
Comments
comments