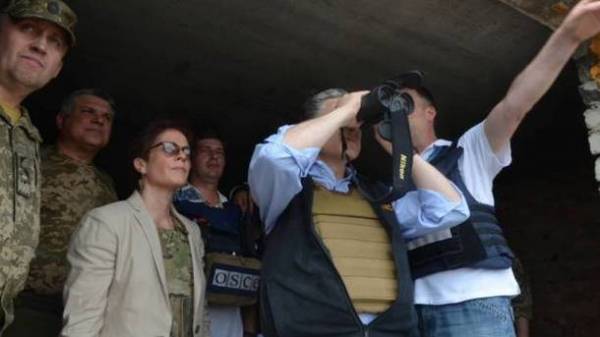 The US special envoy to Ukraine Kurt Volker was able to observe firsthand the consequences of the Russian aggression in Donbas and made a number of important statements. About this he wrote in Facebook Deputy speaker of the Verkhovna Rada Iryna Gerashchenko.
She noted that it was important to hear from the mouth of the American objective information on the situation in the Donbass.
"Today, Mr. Volcker along with the US Ambassador in Ukraine Maria Jovanovic and with other colleagues in the Donbass. Calls a spade a spade is not a frozen conflict. This hot phase of the war waged against Ukraine. This is a very important word and an important honest assessment of the situation with our partners", – wrote Gerashchenko.
See also: Walker on Donbas: "It's not a frozen conflict, and a hot war"
She also touched on the topic of tomorrow's telephone conversations with the leader of countries "channel four".
"Tomorrow is the first phone talks in "Norman format" in a long time, first with the new French President of the Macron, which did not lead to Putin's attempts to put the "Normandy format" on pause. Somehow, I think that Putin will not be easy to sing his favorite song about "nastanet". But Ukraine's key – it's a security issue and the release of the hostages. Really want to progress and promotion in these matters. Our Minsk talks, which will take place on July 31 (via Skype conference on hostages) and August 2 (all others, except for humanitarian groups) will largely depend on the results of the "Normandy" phone conference", – said the politician.
We will remind, today at the Donbass arrived the American delegation, headed by Kurt Volker.
Comments
comments