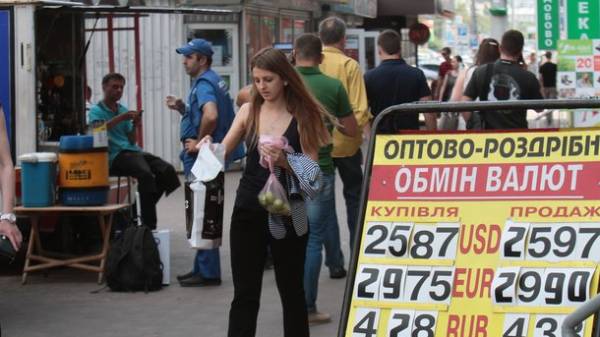 Against the background of a stable dollar in Ukraine suddenly rose Euro in exchange offices it is sold more than 30 UAH, which was not for six months. The reasons for the rise in price of Euro and how it will behave further, I learned Today.
REASONS. So, if the value of the dollar over the last two weeks hovered around 26 UAH/$, the European went up by 60 cents, or 30,02 UAH/EUR in cash sales and 40 cents, on or before 29,52 UAH/EUR in the purchase. The last time the Euro was worth above 30 UAH (30,13 UAH) on 16 January this year.
Ukrainian finanalytica say that the reasons for the strengthening of the Euro associated with the policy of the Federal reserve weakening the dollar. "The goal is to make American goods more competitive on the world market and increase their exports, as promised to the Americans the US President Donald trump", — explained to us a senior analyst at GK FOREX CLUB Andrey Shevchishin.
Managing Director of Bank "Credit Optima" Igor Lvov sees, in addition to this, another reason for the strengthening of the Euro: "Political in Europe has cleared up — not justified fears that the UK's exit from the Eurozone severe blow to the EU economy, the elections in France and the Netherlands to power came the ultra-left forces, and the victory of Merkel in the elections in Germany looks likely. Therefore, the business believed in the Euro, which led to its strengthening".
FORECASTS. Experts believe that the dollar will weaken below of 1.16 $/Euro, while its rate of close to this limit yesterday for 1 Euro was 1 dollar 15 cents. "Then the eurocurrency rate will go down by the end of July — early August, the Euro will drop to a maximum of 30 cents, or to 29.7 UAH/Euro," — predicts Shevchishin.
According to Lviv, the further growth of the Euro is possible if the dollar will go up again, and the ratio of "Euro — dollar" will remain in the corridor 1,11—1,16 $/Euro, plus the Bank will begin in the autumn to devalue the hryvnia to reach included in the state budget rate of 27.2 UAH/$. "This is very likely, because now the average rate — 26,7 UAH/$. So by the end of the year we can expect that the hryvnia will again drop to 28 UAH/$", analyzes the lions. This means that the Euro may be in the hallway 30,8—32,5 UAH.
According to Bloomberg, foreign bankers expect in the near future, the average exchange rate of the dollar against the Euro at the level of 1.13, which now gives a course of 29.4 UAH/EUR.
Comments
comments