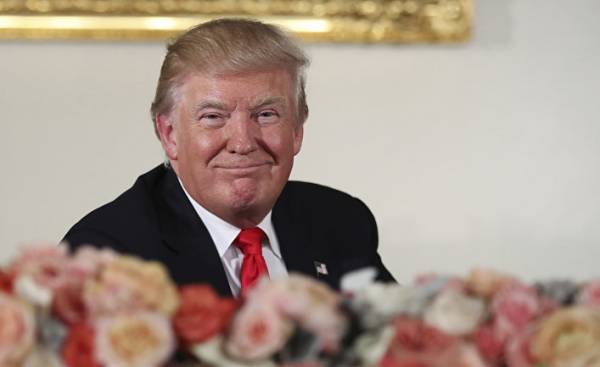 In many scandals, there comes a moment when stubborn facts are no longer allowed to insist on arguments that the allies of the administration have previously used. In these moments they have to refuse the statement that "these charges are false, and nothing like that happened" and move on to the statement that, "of course it was, but there is nothing wrong".
It is in this situation now were the Republicans, and the awkwardness of the situation is hard to miss. Donald trump managed to win the election largely due to a widespread perception that politics is corrupt through and through, and that only such an outsider, he can bring it in order. Now the impression is that its a universal excuse for all his mistakes and the mistakes of his family members and advisers will be: "don't blame me! We all know that politics is corrupt through and through!"
This idea President trump said in his tweet, which he posted this morning: "Most politicians also went to a meeting similar to the one which was attended by Donald, Jr., to obtain information about their opponents. This is politics!"
Most politicians would have gone to a meeting like the one Don jr attended in order to get info on an opponent. That's politics!
— Donald J. Trump (@realDonaldTrump) July 17, 2017
Since the publication of the information about meeting Donald trump Jr., Jared Kushner (Jared Kushner) and Paul Manafort (Paul Manafort) with a group of Russians, who, as was said in the emails, acted on behalf of the Kremlin, many politicians from both parties said that such an assertion is not only untrue but also absurd. If the government of a hostile state offers assistance to you in your campaign, you should immediately report it to the FBI.
The position of the trump is the idea that during the presidential campaign, there is virtually no sin and no crime, which would be impossible to justify the fact that the same campaign. Said Fox News presenter Jeanine Pirro (Jeanine Pirro), trying to defend trump, "if I was a man who ran for President five times, and if the devil himself called me and offered to meet to give me the dirt on my opponent, I would have hopped the first flight to hell to get it." Or, as said by Sean Hannity (Sean Hannity), "it happens always and if someone says something that doesn't happen, it's a lie."
Thus, after spending several months on allegations that all allegations of collusion with the Russian government in order to tip weight the election in favor of trump's completely ridiculous, trump supporters now claim that in such collusion there is nothing wrong. Forget it, Jake, it's Chinatown.
This could be an extremely convenient excuse for all occasions. Trump fired FBI Director James Comey (James B. Comey) to stop the Russian investigation? This same policy! Trump uses his presidency to enrich himself and his family? This same policy! By convincing his supporters that Washington is mired in a deep quagmire of corruption, which he can drain, trump now have the opportunity not to bear any responsibility for their mistakes and crimes, because you only look at the bog!
People who have extensive experience in politics, agrees that there are certain boundaries that you cannot pass in an attempt to achieve political goals. But trump, who sincerely believes in the caricature of a policy, I do not feel obliged to respect any borders. It is suitable to rule the country as if it were professional wrestling, then there is a series of staged fights, which you spend to your fans rejoiced. Of course, the "rules" exist, but they have no more value than the request not to beat the opponent with a chair. If this is part of the show, you will do it.
In the context of this show no longer exists the concept of a political opponent, with whom you may have something in common — for example, commitment to the fundamental ideas that are the Foundation of your democracy. Only have enemies that war against them must be a war of extermination. If Russia wants to assist you to triumph over real enemy (Hillary Clinton), you gladly accept her help.
Some supporters of trump believe wrestling is already a reward in itself — just as the election campaign of 2016 was a reward before trump won. The campaign has inspired and liberated them, allowing them to stop hiding their thoughts, and give vent to my feelings, no matter how "politically incorrect" they were. Never have to worry about that any liberal could call you racist or sexist. Just needed to wear a shirt that says "Trump That Bitch" detail man with a Spanish accent, what do you think about immigrants, and to let loose. Who needs his attempts to achieve something in politics or to improve the lives of people? As one voter-Republican, "I just wish he were all they were, and he's already done."
It should be noted that there are Republicans who are critical of the meeting trump Jr., Kouchner and Manafort and who really are afraid of further revelations. Rating trump had dropped below 40%, and, as shown by a recent survey Post/ABC News, only 48% of Republicans believe that that meeting was valid and appropriate. This is hardly a universal support of the position of the White house.
Trump and his allies are at risk, resorting to the argument of "same policy". As recently explained Hai Moline (Guy Molyneux) in the American Prospect, although we use the word "populism" to describe the attractiveness of trump's for the working class and attractiveness Bernie Sanders (Bernie Sanders) and Elizabeth Warren (Elizabeth Warren), in contrast to the Democrats trump argument, focusing not on the economic elite, and politicians in "Washington," and these arguments resonated among voters. But now he claims that he is no different from any other politician and that the people he brought with him (including his family members), just adapt to the mores and standards of Washington.
Even if this justification is accepted, in 2020, the tramp can hardly claim that he had transformed politics, drained a swamp and has fulfilled his campaign promises in 2016. Most of his supporters may decide that it is enough just to have the right enemies. But maybe, if he continues to convince them that this is just politics at the next election, they will no longer experience such enthusiasm.
Comments
comments