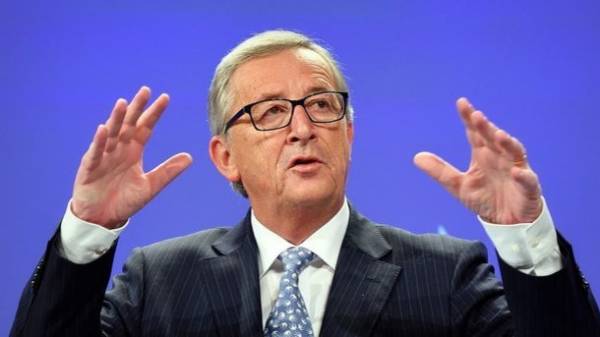 European Commission President Jean-Claude Juncker is in favour of the urgent establishment in Ukraine of a competent independent body to combat corruption, the institutional structure which has to solve the Ukrainian government. This is stated in the letter from the Advisor to the President of the European Commission Richard Shostak in Ukrainian anti-corruption action Center.
In response to the appeal of public organizations of Ukraine, which referred to concerns about a possible change in the course of the EU in establishing anti-corruption courts, counselor Juncker noted that the importance of combating corruption was the focus of discussion during the summit Ukraine-EU which was held on 13 July in Kiev.
"President Juncker has publicly stated that the efforts to eradicate corruption in Ukraine to date has been inadequate. He spoke to each of his companions, that fighting corruption will be a key benchmark by which to evaluate the reform process in Ukraine", – said in the letter.
They also spoke about the need to create the ability to control prosecution for corruption offences.
"On this occasion President Juncker emphasized the importance of creating a legal body that is responsible for the fight against corruption as an urgent matter. He said that crucial guarantees of its independence, both functional and budgetary. He noted the need for transparency and independence of the process of formation of this body and of the selection of specialist judges" – detailed Advisor to the President and added that "the specific institutional structure of the authority needs to solve the Ukraine".
See also: Mingarelli announced the EU position on anti-corruption courts in Ukraine
"President Juncker appreciates the role of NGOs in the process of Ukrainian reforms and cooperation that exists between them and the European Commission. It will remain a reliable ally, defending the importance of fighting corruption in Ukraine", – stated in the letter.
As reported, on July 14, ten public organizations and movements publicly addressed the EU with a request to explain a possible change of course on anti-corruption courts, announced by the President of the European Commission Jean-Claude Juncker at the summit Ukraine-EU.
We will remind, at the final press conference on 13 July 2017 after the summit Ukraine-EU Juncker said that the European Union allows for the creation in Ukraine of anti-corruption chamber within the existing judicial system instead of creating a separate anti-corruption court.
Comments
comments