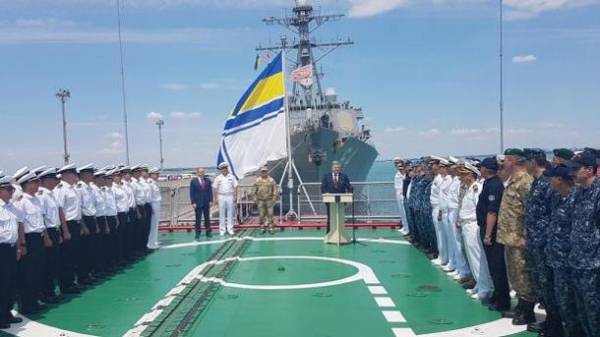 The President of Ukraine Petro Poroshenko arrived on a working visit to Odessa and visited the flagship of the Ukrainian Navy frigate "Hetman Sahaidachny".
The head of state welcomed the participants of the Ukrainian-American military exercises.
"Joint training shows our willingness to work together to protect the world and shared values of the transatlantic community: democracy and freedom, rule of law and human rights, territorial integrity and inviolability of borders. Symbolic and significant is the role of the "sea breeze" in our strategic partnership", – said Poroshenko.
See also: Launch "XI Briz-2017": the Navy of Ukraine told about the features of the exercise this year
He also noted that such exercises will help Ukraine to join NATO in the future.
"The exercises provide us with substantial assistance in the revival of the naval potential of our country, they are conducive to achieving the naval forces compatibility with the fleets of the member States of NATO, which is a prerequisite to our planned membership in the same defensive Alliance, when Ukraine will meet the criteria, when will be implemented the results of our reforms in all spheres without exception. The reforms necessary for NATO membership, 98% coincide with the reforms needed for EU membership," he said.
We will remind, on July 12 in Odessa started a large-scale military exercises "si the breeze". This time they will be attended by representatives of 16 countries and involve three dozen ships and helicopters.
Comments
comments