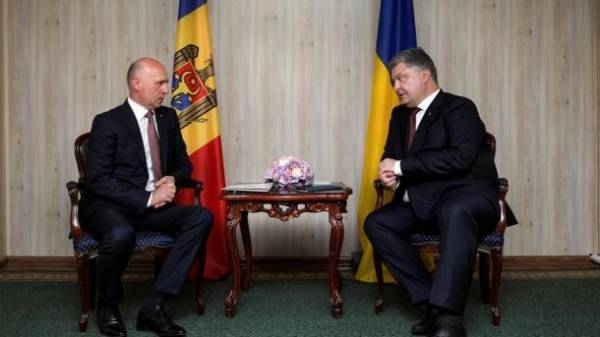 Ukraine and Moldova jointly intend to address the issues of demarcation of borders between the two countries, as well as the construction of border infrastructure. This was stated by President of Ukraine Petro Poroshenko opening with Moldovan Prime Minister pavalam Philip joint CBP customs and border control on the Transdniestrian segment of Ukrainian-Moldavian border.
"We had a very broad agenda for talks with the Prime Minister. This and the next meeting of the intergovernmental Ukrainian-Moldovan Commission on trade-economic cooperation, which, as we agreed, will take place in September this year. This is the issue of supply of Ukrainian electricity for the needs of the Republic of Moldova. This includes completing the process that was started in 2009 by me as Minister of foreign Affairs, the demarcation of the Transdniestrian section of Ukrainian-Moldovan border and we agreed to do everything to complete it in the shortest possible time. In its decision, I formed the Ukrainian part of our joint Commission on border demarcation and appointed him the head. We agreed that it will immediately start to work", – said Poroshenko.
Read also: Poroshenko arrived on the frigate "Hetman Sahaidachny"
According to him, it is also planned the opening of a new road passage and the restoration of rail traffic on a section of the border.
"We will continue our joint efforts to build border infrastructure, including in cooperation with our partners from the European Union to create a more comfortable environment, including in Kuchurgan, for crossing the border by our citizens. In our joint plans to open in August of this year, car traffic across the bridge Bronnytsia-Unguri, and the beginning of the practical part of the bridge project Ampil-Cosauti, the resumption of the railway movement in the area of Berezino Basarabeasca.
As reported, today, Petro Poroshenko and Paul Philip participated in the opening of the checkpoint customs and border control on the Transdniestrian segment of Ukrainian-Moldavian border "Kuchurgan-Pervomaysk".
Comments
comments