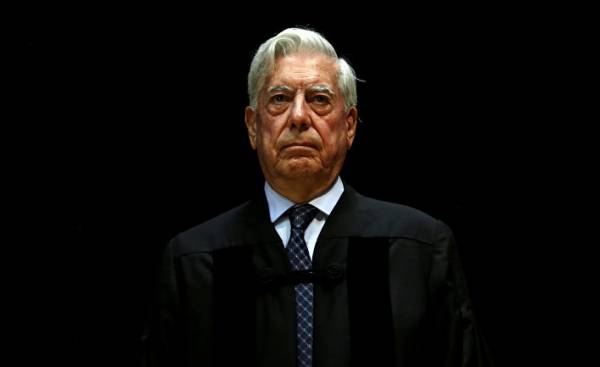 Gabriel Garcia Marquez (Gabriel García Márquez) — the legendary Colombian novelist. Mario Vargas Llosa (Mario Vargas Llosa) — not less legendary Peruvian writer. Both are considered among the best writers writers in the genre of so-called new Latin American novel of the 60-70-ies of XX century, along with Julio Cortazar (Julio Cortázar) and Carlos Fuentes (Carlos Fuentes). Legendary was their fight, which marked the end of a most unusual friendship between the representatives of contemporary literature.
They say that Gabo (the so-called Garcia Marquez's friends and family — approx. translator) and Vargas Llosa had a fight over a woman. Llosa really once dealt a severe blow to Marquez. This is evidenced by the photo of 1976, where the Colombian Nobel prize winner for literature is imprinted with a black eye. But it's all rumors, which they never confirmed. There is a feeling that both gave a vow of silence.
The two geniuses met in 1967 in Caracas at the ceremony, Vargas Lose prize Romulo Gallegos for his novel "the Green house". Their friendship lasted for 11 years. It was a long and fruitful: it is fueled by a common calling for the creation of books and the origin, because both writers were born in reckless and full of wonders America. They even thought about collaborative writing "four hands" of the novel about an armed conflict between Colombia and Peru in the Amazon jungle.
"No matter who we were, Colombians or Peruvians, but we had a common homeland — Latin America, says Vargas Llosa. But when I was young, Latin America was not perceived as a cultural unity".
"I was fascinated by the novel "one Hundred years of solitude". Reading it, I decided that it was dazzling, amazing, extraordinary work," said Llosa on one of the lectures from the cycle of the above mentioned novel by Gabriel Garcia Marquez, organized in the framework of the summer program Universidad Complutense, Madrid (Spain) Colombian essayist Carlos Grannom (Carlos Granés). The Peruvian writer spoke about his relationship with his Colombian counterpart Marquez.
Fernando Jaramillo (Fernando Jaramillo) was a close friend of the two great novelists. Even as a child he fell in love with the works of Marquez, after reading "the Story is not drowned in the open sea," published in the newspaper El Espectador. Jaramillo began to collect all information about Gabo, which appeared in print. And perhaps he was one of the few who knew what actually happened between Marquez and Llosa.
"First reported that Vargas Llosa has gone to new York with a chorus girl. Since it was unconfirmed rumors began to spread of a new version. Then he said that Vargas Llosa left with a stewardess Swedish airlines. At that moment, Mario Vargas Llosa and Gabriel Garcia Marquez lived in Barcelona. Their houses were close to each other. When Mario left, and his wife Patricia moved to his comforters — Gabo and Mercedes. Then it became known that Vargas Llosa deals with unpleasant things. Say, then, garcía márquez said that he had no other choice but to divorce", — said Jaramillo edition Español.
"When Vargas Llosa returned after "their adventures or other things, his wife told him the words Gabo. After a few months they met at the Palace of fine arts Mexico city at the premiere of "Survivor of the Andes", which tells about the crash of an airliner, on Board of which was the Uruguayan Rugby team flying to a match in Chile. The writer of this film was Mario Vargas Llosa", he continued.
That day, the Peruvian writer and hit in the eye Garcia Marquez. Mexican writer Elena Poniatowska had Gabo first aid. "He struck him a powerful blow with the fist in the eye, says Jaramillo. The treatment was continued by Mercedes homes. They did not go to the hospital to avoid scandal. They say that in that day, Patricia is very cold met in the hotel Vargas Lose. Mercedes called Patricia and told her about what happened. Since then it has spread new rumors about Patricia. Her friends from College in Lima called her incompetent because she asked her husband to protect her from the harassment of Mr. Garcia Marquez".
Here about this story, none of the writers never said anything. Now, after more than 30 years, in celebration of 50 years since the publication of the novel "one Hundred years of solitude" Vargas Llosa told finally of his relationship with the Creator of this masterpiece.
Within the walls of the Complutense University of Madrid Llosa stated that the rupture of his friendship with Marquez happened because of their relationship to the Cuban revolution.
In 1971, the poet, the view has changed Padilla (Heberto Padilla) was arrested at the initiative of the Cuban authorities that he was accused of "subversive activities" and of spying for the CIA. This provoked an angry reaction from many writers Julio cortázar, Simone de Beauvoir (Simone de Beauvoir), Marguerite Duras (Marguerite Duras), Carlos Fuentes, Juan Goytisolo (Goytisolo, Juan), Alberto Moravia (Alberto Moravia), Octavio Paz (Octavio Paz), Juan Rulfo (Juan Rulfo), Jean-Paul Sartre (Jean-Paul Sartre), Susan Sontag (Susan Sontag), Mario Vargas Llosa, and many others. The case of Padilla has led to the fact that many intellectuals changed their attitude to the Cuban revolution, which up to this point was fine.
"García márquez was a very practical man. Think he decided that in this critical moment for the writer to be more profitable with Cuba, but not against Cuba. He was able to protect themselves from the mud, which was poured on all of us, who took a critical stance. — said the Peruvian writer. The left have real control over cultural life of countries around the world."
In the end, Grades Losu asked whether he had seen with Marquez after this incident. "No, Llosa said with a smile. — We are entering into dangerous territory. It's time to finish this conversation."
Comments
comments