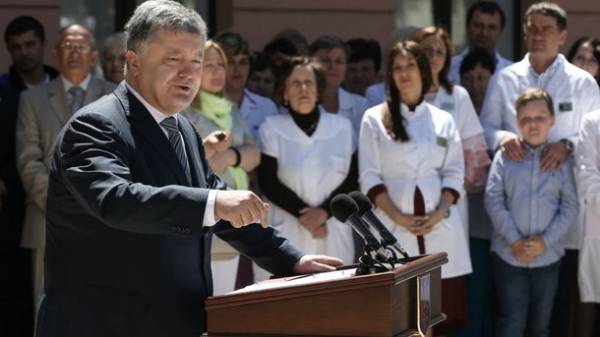 President of Ukraine Petro Poroshenko stressed the importance of continuing reforms in Ukraine – the head of state expressed confidence that the package of reforms that was started – decentralization, deregulation, judicial, health and educational reform, to be completed. He stated this during his working trip to Ternopil region, the press service of the President.
"Yesterday in the first reading was voted on pension reform. And I hope that in the autumn we will reach the position of modernization of pensions", – said Poroshenko.
"Expect that in September she (the pension reform. – Ed.) be adopted, taking into account all wishes of the Verkhovna Rada. In the fall, and Ukrainian pensioners will receive higher pensions", – said the President and noted that the government and the Parliament fully considered his proposal in the appropriate draft.
"This is a fair and honest attitude to the Ukrainian citizen", – said the head of state.
Poroshenko said that there was an increase in minimum wage and reduction of the single social contribution. According to him, reduction in the size of the ECB has also increased the level of social security.
As you know, the government's draft pension reform does not directly increase the retirement age, but introduces requirements insurance experience: for retirement at age 60 will need to have 25 years of experience. If you experience 15 – 25 years of retirement will be to go in 63 years, less than 15 years – 65 years. People who have no insurance experience, can apply for social assistance upon reaching the age of 63. The amount of assistance will be determined on the basis of the family income of the pensioner.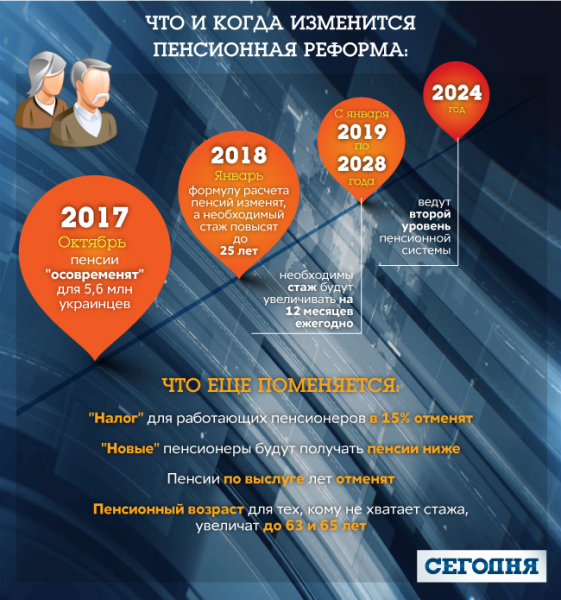 All of the minimum insurance period will increase by 1 year every 12 months until 2028. Thus, from 2028 to retire at 60 will need to have 35 years of insurance experience.
The reform also cancels the appointment of civil servants pension for years of service and enters a single formula for calculating pensions, which binds it to the volume of contributions to the Pension Fund for life.
In the framework of the pension reform is planned from 1 October this year to increase pensions, and to abolish the taxation of pensions to working pensioners.
As reported, the Verkhovna Rada also introduced in the agenda of the five alternative government billsconcerning pension reform.
Comments
comments