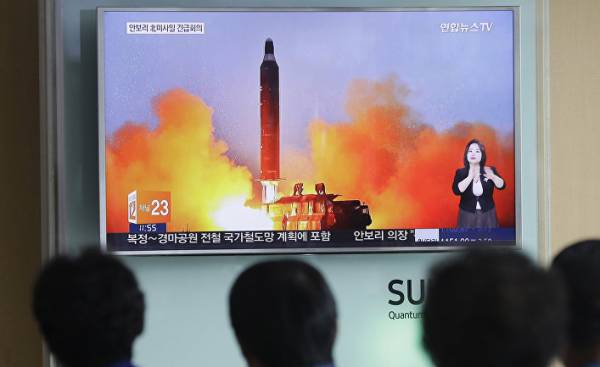 Since North Korea has tested an Intercontinental ballistic missile (ICBM), the international community will have to take new measures. Meanwhile Russia and China are wary of additional sanctions against the DPRK who want to enter the U.S. and thereby increase the pressure on Pyongyang. In this regard, parties are not easy to come to a common denominator.
How to stop the provocations of the DPRK? The time has come when the unity of the international community, including China and Russia, is being tested.
4 July in Moscow talks were held between the head of China XI Jinping and Russian President Vladimir Putin.
After the talks in a joint statement, the parties have proposed the following plan: North Korea freezes its nuclear and missile program in exchange for the United States and South Korea will refuse to hold joint military exercises.
Moreover, China and Russia demanded that Washington and Seoul immediately turned to the project of placing the missile defense system THAAD in South Korea.
These requirements fully correspond to the strategy of China and Russia, who are trying to deprive US influence in the region. They can not be described as absurd. China and Russia should not complicate the issue.
USA and Japan should convince Moscow and Beijing that they are wrong. July 7, during the summit in Hamburg Putin and trump didn't come to a consensus on the North Korean issue, so it is only natural that after meeting U.S. Secretary of state Rex Tillerson said that the US will not abandon attempts to change the situation.
July 8, during the negotiations in Hamburg, the Prime Minister of Japan Shinzo Abe and Chinese leader XI Jinping reaffirmed their intention to cooperate closely on this issue. The question is, whether the existing entity to take any concrete steps.
Perhaps to China and Russia changed its position, it is necessary to take drastic measures. For example, in late June, the US government imposed sanctions on Chinese banks in order to exclude the DPRK from the international financial system.
Of course, there are high hopes for the UN Security Council. During an emergency meeting associated with the launch of an Intercontinental ballistic missile of the DPRK, the United States proposed a draft resolution, under which Pyongyang would have been under even more severe sanctions.
Russia presented the counterarguments: "This is not an ICBM and medium-range missile", "Sanctions will not help resolve problems" and so on.
Now Japan is a member of the UN security Council. It should convey to Russia that the North Korean threat has increased, and understanding the full depth of this problem.
At the same time should strengthen the defense capability, which will meet the North Korean threat, and to deepen cooperation with the United States and South Korea. It will signal not only for North Korea but for Russia and China.
Comments
comments