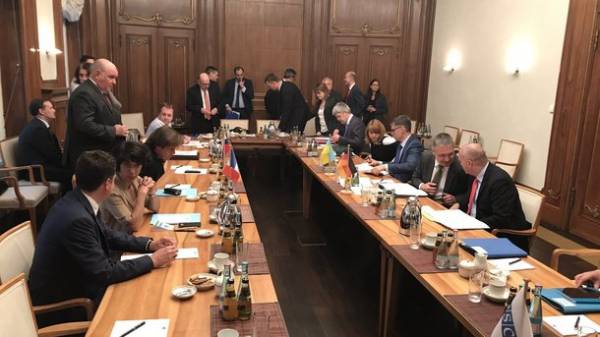 Deputy Ministers of foreign Ministers "Norman Quartet" (Ukraine, France, Germany, Russia) concluded a meeting in Berlin at Villa Borsig. Our country was represented by first Deputy foreign Minister Vadym Prystayko. A day earlier Pristayko held a round of talks with the state Secretary of the Ministry of foreign Affairs of Germany Markus Ederer.
At the talks in the "Normandy format", the parties heard the report of the OSCE that the organization presented at the meeting of the tripartite group in Minsk, as well as traditionally discussed implementation of the Minsk agreements.
According to the Director of the Institute for Euro-Atlantic cooperation Oleksandr Sushko, while Ukrainians should not expect from the talks something significant and a breakthrough.
"While there is a certain fundamental agreement on the action sequences. In principle, the negotiations are stuck on the exchange of hostages and freeing people. From the Russian side and separatists are demanding the release of a huge number of people that do not want and are not going to move in the so-called "DNR" and "LNR". This blocked the work of the group" — said the expert.
According to Sushko, we should not expect from the talks in the "Normandy format" and any progress on the political agenda. "We have a fundamental antagonism between the positions of Russia and Ukraine", — concludes the analyst.
Comments
comments