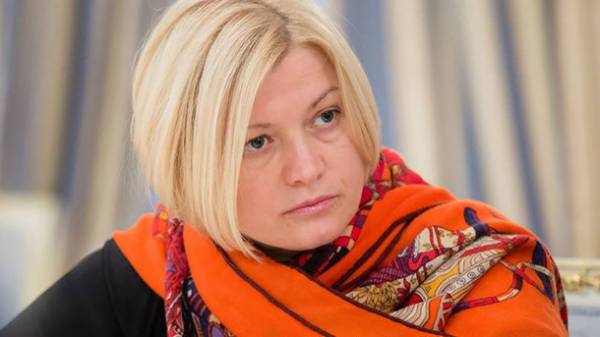 Vice-speaker of the Verkhovna Rada Iryna Gerashchenko in response to the request to pardon the Russian military Victor Ageev has proposed a variant of the liberation of Ukrainian political prisoners. About it she wrote on Facebook in response to a petition from the mother of Russians to the President of Petro Poroshenko.
"Mother war criminal Ageev asks the President to pardon her son. But we, Ukrainians, ask Putin to pardon Oleg Sentsov! (who is innocent). It is noteworthy that this Russian woman did not complain when her son was sent to kill Ukrainians, too, are somebody's sons," – wrote Gerashchenko.
It has also demanded the release of all Ukrainian political prisoners and recalled that they all also go home to someone.
"We demand pardon of Alexander Kolchenko; Mykola Karpyuk, who is expecting a little son and a young wife; Stas Cliche whose parents are seriously ill; Valentin vygovskyy planted never; Roman Sushchenko, whose two children, wife and elderly parents; Eugene Panov, who is tortured with electric shocks in the Simferopol prison. We demand the release of our boys from Makiivka, Donetsk colony and prison, from prison in Lugansk," – said the politician.
See also: the Kremlin has commented on the detention of Russian servicemen in Donbas
She also remembered how liberating Nadiya Savchenko.
"In may 2016, the relatives of Russian journalists killed in the Donbass region, appealed to Putin with a request to pardon the Hope Savchenko. This was a formal script, release it, and then the Ukrainian side handed murderers Grushnikov and Erofeeva Alexandrov Russia to release Hope," added Gerashchenko.
As it became known today, the mother was detained in the Donbas Russian military Victor Ageev has asked Poroshenko to pardon her son. She promised that he will make conclusions.
Recall that on 26 June it became known that the military 93 Omgb eliminated the commander and the sniper of the so-called DRG "LC", a sapper, a sniper and two gunners were taken prisoner. Among those detained under the Grooves of the militants was a gunman of the so-called "LNR" Victor Ageev, who came to fight in the Donbass from Russia. In turn, the defense Ministry claim that Ageev's not a war.
Comments
comments