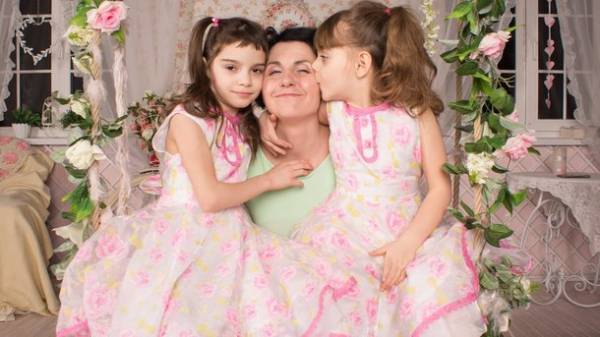 In the first publication of our project "Baby is looking for parents" (Tuesday, 30 may), we wrote about the problems faced by parents at the stage of deciding to adopt a child. This time we will discuss the most topical problems in communication and adaptation of the child into a new family.
THE ANGEL OF SLEEP. Kiev Elena and Alexander Slavenskie eight-year-old mother of two daughters. First, 6 years ago, the family got Milan, and a year and a half ago
— Nadia. "We have lived with my husband for 17 years. Both from large families, but children, alas, was not, — says Elena. — So when I solved the housing problem, began to collect documents for adoption. I wonder what her husband within two years dreamed the same dream: he goes to the house down the path, holding the hand of little girl in denim suit. Blonde, blue-eyed, like an angel. Then this girl we saw in the database of children available for adoption. This was our Milan. She was with serious developmental delays. When we took her to handle, baby uttered his first word: "Daddy." All those present wept. 5 years later we adopted another Nadia.
The first daughter of adjustment did not was, she immediately joined the family. Nadia's harder — we are still at this stage. I thought I knew how the process of adaptation, but it was individually and depends on the age of the child and his injuries. The first girl was just two years old, and the second seven years is the conscious age. She had already formed psyche, besides injured: the girl have just adopted, she lived in a foster home… I thought of warmth and affection, the child may be warmed, but turned out the opposite effect: when the child, unaccustomed to trust, give too much love and freedom, he begins to manipulate.
The more the child is hurt, the longer it checks parents pranks. Therefore, the breaking-in period I made more rigid, began to control their love. Even children need to look closely to find similarities with them. As soon as I started to see Nadia has a resemblance to each other in childhood, I began easier to understand some things. The first bell that the child joined the family, your inner feeling, making him loved by the disadvantages. To find a common language with the girls, I spent much time with them, and come up with joint creative activities, organized leisure activities".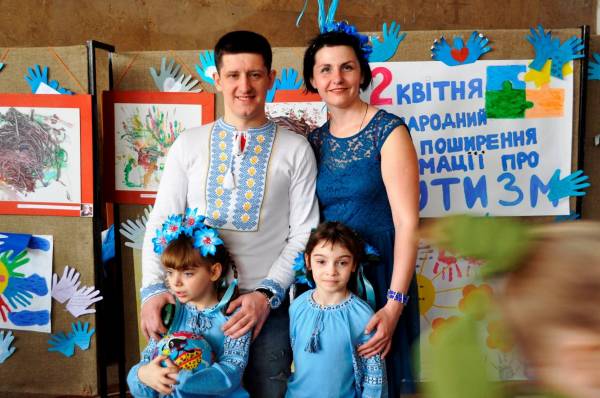 Slavenskie. Alexander and Elena raise two 8 year old daughters. Photo: from personal archive
NONSENSE: MANY CHILDREN ASK TO GO BACK INTO THE ORPHANAGE
"Very often, after spending some time in the family, these children begin to demand the return of them to the orphanage," says Marianne Lapin. "Send me back! I'm all right!" they say, frightening parents. In such cases, I suggest moms and dads not to panic but to take as allies to explain what a family is. Their behavior and care to prove to the child that many times deceived and betrayed by the adults that he was safe.
Why are they being asked back to the orphanage? Because there have formed a consumer behavior. His routine, feed, sponsors free gifts with or without. Yes, the child wants to live in the family, but why? He thinks there will receive even more benefits! And there it was: from it start to demand, of course, he has responsibilities. Need to clean up my room, wash dishes, do homework.
So parents, a lot of work: totally "reformat" in fact, formed man, to meet the basic needs of attachment and security. Learn to communicate with other children that also never easy. All this takes time and a lot of love."
EXPERT OPINION
Marianne Lapin, a psychologist, a specialist in working with foster families:
"The younger the adopted child, the easier and faster it is addictive to parents and formed an attachment — says Marianne. — Therefore, the adoptive parents try to take quite crumbs, with no distorted view of the world. The little man is growing up in child care with special rules, it is difficult to accept the rules of the family. Often these children do not understand the roles and functions of parents and not know what it means to be a child. Their experience makes it impossible to hand over his life to a new adult.
For anybody not a secret that they stay in the orphanage — initially abnormal situation. Life on the "laws of the jungle" implies the ability to survive by any means available, engenders cunning, aggression, deception, and much more. The model seen in the family. The child is afraid and does not trust. Therefore adoptive parents should know as much about the child. If he suffered violence, tactile interaction for him is painful, and "strangle in embraces" it is not necessary.
Should not be offended if a child initially shies away from new parents. Or, conversely, "sticks" to all and requires adoration. It is important to maintain an adult attitude and to understand that this behavior is a consequence of psychological trauma. And be sure to voice their feeling that the kid knew how his behavior is perceived".
NATALIA: "MY GIRLS ARE VERY FRIENDLY"
Vadim and Natalia ivko's adopted 3-year-old Natalka eight years ago. "She was very closed, a kind of wolf — says Natalia. — I even had some time to live near the child's home in Svalyava, where was she every day to go to little used. And when the husband came to pick us up, Natalka was five meters from the machine to a halt! In her little life, she only saw four walls and the hospital where she was taken by car (the girl has medical problems), and therefore very afraid of cars. Not immediately, but by persuasion-"Goodies" somehow put her in the cabin and went".
A few months Natalka did not depart a single step from his new mom. The girl was still suspicious, it is difficult to come into contact with other children on walks. "About the kindergarten could not be and speeches, — says Natalya. — The kids need the undivided love of parents, and so they grew in the team. Gave his daughter in the garden just before school a couple days a week for adaptation."
Natalka knows who and where she appeared in the family. Mom told her about it in the form of fairy tales, which she invented. The girl showed photos of Svalyava, explained that she was in the family since their birth. And when mum became pregnant with Solomidou, they went together for the ultrasound. "So you have a mommy tummy sailed," smiled the doctor, looking at the monitor. "You what? I was swimming in the belly of another woman!", — emotionally reacted Natalka. Can you imagine the reaction of the doctor?!".
See also: Myths and truths about adoption in Ukraine: what challenges will be faced, taking the child into the family
Now the relationship of the sisters is the same as in the majority of families can fall out, but are very attached to each other. Know that mommy loves them equally.
In school because of the exotic appearance Natalka sometimes grieve classmates — say why you have dark hair? Will be bright, then we'll become good friends! But my mother strongly supports her daughter: "do not listen. You are the most beautiful for me!".
Recently, the family ivko took from the child's home another girl, 3-year-old Ivanka. Unlike Natalka, the girl proved to be too trusting with the so-called attachment disorder. "She is ready with whoever she will smile, to go to the edge of the world, — says Natalya. — We try to correctly explain what a trust can be dangerous. She's very pretty, charismatic, a child in the house she was loved. And I need all the children to pay attention, so she sometimes resents not getting his "portion of" adoration". The Ivanka loves the company of adults than children, it affects the long stay in the children's team.
Before you take the family Ivanka, mom consulted with her daughters. It always happens: decisions are made together. "Of course, radically their opinion will not change the situation, — says Natalia. But it is important that children therefore feel valued".
Recently 11-year-old Natalka wanted to go there, where she came from parents. "We went to Sochi, — says the mother of Natasha. Managed to briefly log in the child's home. Of course, she remembered nothing for a long time played with one little boy. Then he said — come on, say we take him. But I calmly explained that I wanted to educate and raise only girls. Natalka thought and uttered the incredible words: "Hurry to become an adult… Then I will take away from the two boys. And I will be their mother."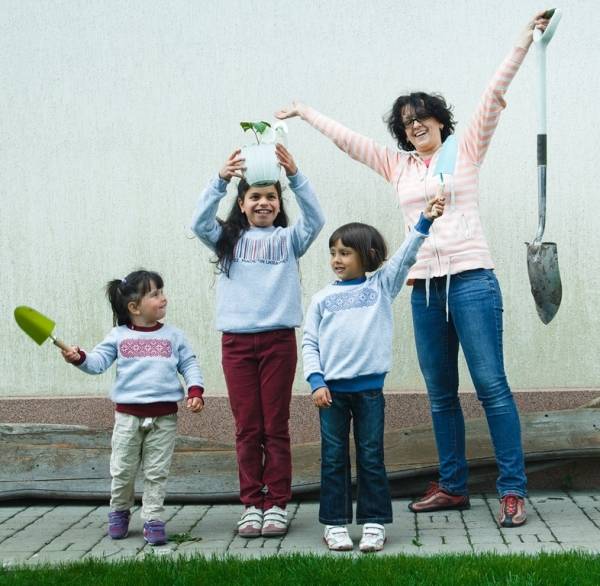 Sisters. Girls love to play with mom Natasha
JULIA: "PARENTS ADAPTATION IS MORE DIFFICULT"
For the first time desire to save the orphan Julia Baeva appeared in 1987. She then gave birth to their second child, a son. At the same time it gave birth to a daughter, her colleague, who died in childbirth. Julia wanted to adopt a baby, but the girl took custody of relatives. In 2003, the son of Julia tragically died, and the eldest daughter was already an adult, and the woman returned to the idea of giving a family to abandoned children. So in 2008 she adopted three children — 8-year-old Victor and his sisters — 7-year-old Anna and 5-year-old Leroux.
This spring, the foster family said the nine-year anniversary. And the day when the children have found a family, here called the "Day of the stork". The path to understanding children Yulia was difficult. "There was everything in the beginning, — says Julia. — Children and stole, and lied, and fought… Even food under the cushions hid! This continued until they were convinced that here they are loved and that they are in this family forever. When the children stopped to steal and hide food and have learned to answer me: "Mom! I'll do it later, I'm too lazy", I realized that the process of adaptation is over. I never perceived them as strangers.
In General, adaptation is one of the most important stages. By it does not slip any family adopting a child with any form of guardianship. Often, many adoptive parents, the adaptation is almost harder than the kids. It's hard to say what is the indicator that the child joined the family. It is only possible to feel. But if a child called you mom, it doesn't mean that he's already used to you. At the orphanage they call all moms. There was a time when everyone I met told me how great it is to pick up the child from the orphanage. And then a few friends of the family took the children from the orphanage and after some time returned. For a variety of reasons. Most families simply unable to cope: their expectations are not fused with reality. Since then, I never did any good. Everyone has to decide individually".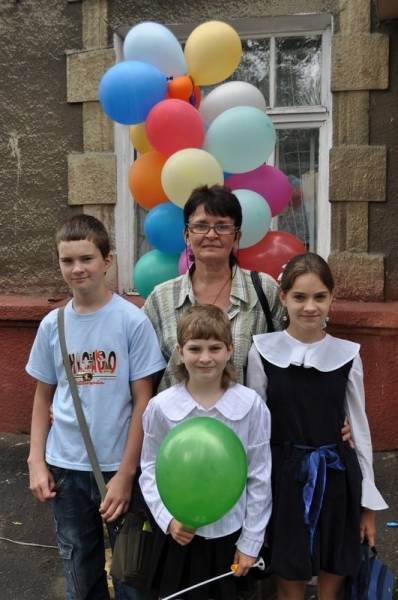 Julia Baeva. For 9 years raising the Victor, Anya, and Lera. Photo: From personal archive
I'M WAITING FOR YOU, MOM AND DAD!
YAROSLAV: "ITALY IS A HOLIDAY TALE!"
Yaroslav 10 years. He loves to play football, basketball and to draw. In the future wants to become a footballer. Yaroslav is a very sweet, slightly shy boy. He wants to have a family, but imagine a life abroad. Jaroslav repeatedly visited Italy, where he and other children from their orphanages, drove there on vacation. Boy, this country seems like a fairy tale, an absolute joy, a celebration. He would like to live there, but reality is only a private bed in a public institution…
Jaroslav sociable, good-natured fun. Of course, he will need time to adapt to life in a new family. But the parents who will take the boy into their family, can become one with it. But time, patience, love mom and dad and working together on a relationship will give them all a happy future.
PETRUSIC: LOVES RATTLES
In the orphanage it love, call Petrosian. Peter is very calm, sociable boy. At birth, immediately began to reach for toys and rattles. Quickly learned to turn to the side. Now he's six months old and he knows how to do all that is necessary for children at this age. This is the time when children need their mother, her affection and cuddling. I want to believe that mark "the Child with special needs" in the questionnaire the boy will not prevent him to meet his future parents. He is waiting for mom and dad.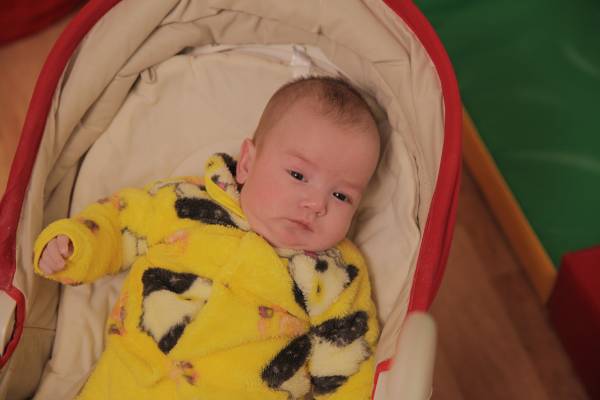 Calm boy. Little Pete is now six months
YARIK AND DIANA: A GOOD MAN AND A TRUE LEADER
"When I grow up, I want to be a mom says 11-year-old Diana. I also love to dance, draw, swing on the swings and picking flowers".
Diana is a very good girl. Her character is kind and tender. A good student, friendly with all the children, especially the youngest. She constantly helps them, engaged with them, playing. Diana is a true leader: before she came to class, the leader was a boy, but Diana quickly took matters into their own hands.
The girl has a brother, Jaroslaw, who is 13 years old. They both are brought up in one of the orphanages in Zhytomyr region. The boy kind and sweet. Guys between friends.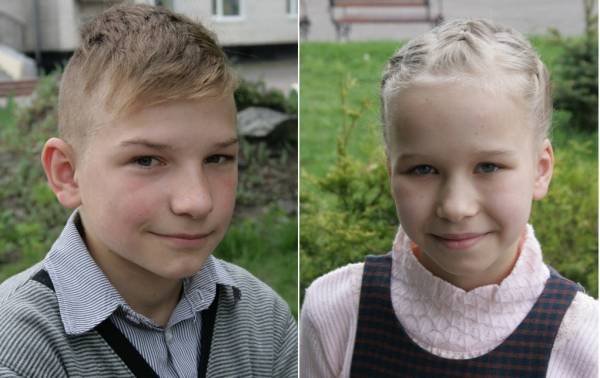 VERONICA: "THE FAMILY IS MOM, DAD,I'M AN ANIMAL"
10-year-old Veronica is in third grade. Girl loves to draw, ride on the swings, jump on the rope and collect the flowers. But still Veronica could easily demonstrate how she sings. The girl pleasant to talk to and very nice. "Family to me is mom, dad, me, and animals. And I want grandma," he told us Veronica.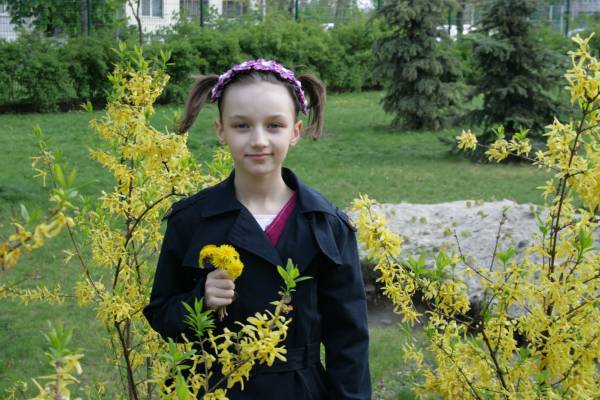 Abid. Loves to draw, jump rope and sing
In the framework of the national program "no to Orphancy!" Rinat Akhmetov's Foundation "Development of Ukraine" works www.sirotstvy.net. It is possible to find profiles of children from all over Ukraine, which are subject to adoption. Operates a hotline, which advise lawyers, psychologists and social workers: 0-800-50-14-14. Calls from fixed phones in Ukraine are free. Edition asks to consider the potential adoptive parents that during the period of preparation of the material in some children can begin the adoption process.
Comments
comments